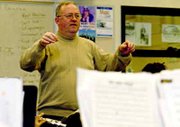 (SARAH GET PHOTO?)
Band -- the word alone congers up such strong emotions with in me. It has been nearly 13 years since I graduated, and yet I have such fond memories of that time.
I would debate anyone who says high school is "the best years of your life," but it is the foundation of what can be the best years of your life -- and band was an integral part of that foundation for me.
I moved to Dallas in the middle of fourth grade. It was a difficult move, mostly because of my self-pity and stubbornness to accept the change. By sixth grade I was miserable, as were those who had to be around me.
But that year Mr. John Skelton came to Whitworth Elementary and introduced me to the world of band.
My parents, I later found out, were somewhat fearful since my music ability had shown little promise up to this point. They supported me completely, though, and so I began to learn the Clarinet.
It was great. Not my playing, mind you -- but being involved. Being part of a bigger entity was strangely gratifying.
I was never a first-chair clarinetist. In fact, I was much closer to the end of the pack. That didn't seem to matter to Mr. Skelton. He took the time to work with me and help me improve. Junior high was rough for me (and probably for 99 percent of the population), but band was a constant to which I could return.
In seventh grade I broke my arm warming up for my first basketball practice. This was a major turning point in my life. I realized simultaneously that (1) I could put all of my athletic ability into a filbert shell, and (2) the band room was really, really, REALLY in need of organization.
Even with a cast on my arm, I worked in the music library. At the end of four weeks it was not completely done, but at least you could see the floor of the 8x8 room. Some would have seen this as punishment, but for me it was pure bliss. It was my first inkling of how important organization was to me (now I make lists of my lists, so it is quite apparent).
These were not my only band-related epiphanies. I looked around and realized that there were only one or two people playing the more unusual instruments.
Knowing that all the practice in the world would not move me to the top (and not being a huge fan of competition), I jumped at the opportunity to play bass clarinet. There were only two of us and I was second chair ... Trisha was first.
High School was a new start for me, and band was the familiar thread that helped make my freshman year great. It was also in that year that I realized wearing black skirts, polyester tuxedo coats and fake frilly tuxedo shirts was not going to be a pleasant experience.
I complained to Mr. Skelton about uniforms enough that he told me to fix it -- probably not realizing the full ramifications of his words. With the help of my mother and a "uniform committee," we chose to purchase real tuxedo shirts, bow ties and cummerbunds for the guys. And we had comfortable dresses made for the girls.
Maybe the dresses weren't that pretty up close, but they all fit us and on stage we looked professional. Watching the band perform, one could concentrate on the music and not be distracted by the outdated, mismatched look.
We took first in state that year. Finally I was a contributing factor on a successful team. What a thrill to be a part of that.
In my sophomore year I took up the alto clarinet. This was even more obscure than the bass clarinet and so I was now first, middle and last chair. Talk about taking the pressure off. For Christmas that year, my parents gave me a saxophone with lessons to follow. The sax was fun to learn, but the clarinet was still my first love.
In my junior year I did branch out and started playing the sax in the stage band. I was, you guessed it, last chair. This was also the year that we traveled to Washington D.C. to represent Oregon. What an experience. We fund-raised, we practiced, we fund-raised, we practiced, and in the spring we finally went.
Wow! Washington D.C.! We played in front of the Lincoln Memorial, inside the Martin Luther King Jr. Library and elsewhere. We also had opportunity to see the Constitution, visit the Smithsonian, lay a wreath at the Tomb of the Unknown Soldier, and much more. It was on this trip that I learned you do not have to like or respect someone to coexist with them. It was a very important life lesson.
At the end of that school year, I was elected band president for the following year. It was so exciting. We were invited to the Western International Band Clinic in Portland, an incredible honor for our group. We also took first place in the state band competition.
Quite by accident, I became very close with a few people. We were all of different grades, religions and family backgrounds -- but we were all musicians. I have heard it said that you rarely stay in contact with the people you knew in high school, and yet my closest friends today are some of these people.
Band did not bring me a great career. It did not pay for my college. It did not buy my house or provide me with tangible things. It gave me more.
It gave me a sense of purpose during a time when I really needed it. It gave me an outlet for my organizational and leadership skills. It taught me how to be diplomatic.
It gave me an appreciation for music and art, and it gave me an opportunity to broaden my horizons.
I was saddened and yet happy when I heard that Mr. Skelton is retiring from his long service to the school district. To me, band is synonymous with Mr. Skelton. He greatly influenced my life, and for that I am extremely grateful.
I am saddened for those students yet to come that need a Mr. Skelton in their lives. But I am overjoyed for him and hope he knows how many lives he touched, how many students he influenced.
Thank you, Mr. Skelton.
Hollie Ann Flansberg
Emmett, Idaho