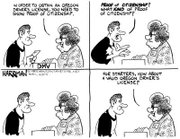 Irresponsible kids
Several times daily I drive past the crosswalk in front of Central High School, where pedestrians (mostly students) repeatedly dart out in front of traffic without even looking anymore.
There is never much mention of the out-of-control problem that now threatens all drivers that pass this area. Yet last week, another "warnng" by the police that a crosswalk sting (targeted at drivers, as we all know) is taking place again.
These kids have no regard for moving vehicles. And that is supported repeatedly each year by these stings.
I drove by this morning when the crosswalk sting was in full swing. I parked and watched. I counted 17 violations by student pedestrians. I then saw 10 people (drivers) pass who were clearly tailgating the vehicle in front of them. There was no action by the police on any of these infractions.
So, is there no money to enforce those laws?
Driver have the responsibility to maintain a proper lookout. Pedestrians have some responsibility as well. But for whatever reason, the real problems are not being addressed. Maybe pedestrian tickets don't bring in as much money. That would be my guess.
In any case, no pedestrians were cited this morning while I was present. No tailgaters were cited, either -- though the opportunities were there repeatedly.
Crosswalk stings? Great. Our police department needs to take a fuller look at what's going on.
Phil Johnson
Monmouth
--
This is due process?
So you want to fight the traffic ticket you received on OR22 at milepost seventeen?
As a retired law enforcement officer, I believed the judge would allow me more than five business hours to prepare a defense. I erred in believing he'd make the Polk County Sheriffs Department provide the evidence they would use against me in court.
Even though I made a timely request for disclosure, I was denied due process. Information I wasn't provided was used against me.
The judge never looked at the evidence I provided. The officer admitted it was possible I didn't know I was in a safety corridor. The judge found me guilty.
Ignorance of the law may be no excuse, but not being properly warned is.
Did you know Oregon has no speed limit? The judge says so.
I don't pretend to be a lawyer. Oregon State Law 811.111 says you can be charged with exceeding the speed limit -- or can you?
Do we as a people have a right to believe the judge should maintain order and discipline in the courtroom?
I believed so, but I was wrong.
The judge never should have allowed the officer and me to go at each other verbally.
There is no speed survey at milepost seventeen. The state has adopted the Millennium Edition of the Manual on Uniform Traffic Control Devices. Type "MUTCD" in your browser. Look at section 2b-11. A speed survey must be completed before a speeding violation is valid.
If you would like to see the letter I sent to Judge Avera, email me at randolphb@comcast.net.
Bob Randolph
McMinnville
--
Stop it now
Regarding the proposed Walgreen's and Dutch Bros.:
My question is, why? Why a Walgreens and a Dutch Bros. Coffee?
Why let big corporations come in to dominate or even possibly eliminate the community businesses that are already here?
Do we need another empty building to try to lease?
Does Bi-Mart, Hi-School Pharmacy, Brooks & Terry's Espresso, and other local businesses not already fill the needs of the community?
If the Monmouth Planning Commission would like to see their community grow, why not work to attract businesses with more diverse services -- services not already offered in the community?
Touted to be bringing in 35 to 40 new jobs to the community, has the Planning Commission calculated how many jobs will be lost when the "big boys" come in, forcing small local businesses to shut down?
Do we really want our small towns to look like "Anytown USA?"
Let's make our voices heard: "Stop Walgreens."
Beth Fertig
Independence
--
Community-focused
Lions International is the world's largest service organization with more than 1.4 million members.
Our local club is one of more than 40,000 Lions clubs in approximately 180 countries.
As a new organization in town, we are searching for ways to serve the Dallas community.
The health screening clinic we conducted on April 9 was successful due largely to publicity in The Itemizer Observer.
On behalf of the Dallas Lions Club, I'd like to thank you for your help and support. It's very much appreciated.
Dave Edmonson
Lions Club
Public Relations
Dallas
--
"Duplicity"
Imagine a town with a name like "Duplicity."
"Let's go to Duplicity and shop today."
The "American way" was reached our small town. They have seen an opportunity and jumped in with both feet to duplicate what is here.
"Oh, but our shop is unique. We serve..." This song goes on and on.
Don't get me wrong. I do believe in competition. I, too, want some choice and variety. But all too often those products are from a small number of manufacturers, distributed by a larger number of distributors.
There are no exclusives here, except perhaps in price. That is where volume buying comes into play.
My business neighbor can buy at a better price due to his volume. Volume leads to chains or franchise status. They can now outperform the independent.
Enter the box store. Now, instead of duplicity of the "mom and pop" stores, we will have nearly identical box stores. The cycle starts over. We are now in search of smaller variety stores to fill the spaces left vacant by, of all things, duplicity.
Had we effectively pursued business for those spaces in the first place, vacancies would have been less likely.
The bottom line is that we must begin a business search program and pay attention to new vibrant retail for our business community.
We will never gain the confidence of our buying-public until our retail district proves itself as an effective well-rounded supplier.
The duplication of yet another coffee company, or maybe two, along with another variety drug store, saddens me.
Not because it's another competitor, but because it's another duplication in Duplicity (Monmouth).
Please, someone out there, be creative and give Monmouth its name back.
Rick Gydesen
Rick's Place
Monmouth
--
Great volunteers
Lyle Elementary is fortunate to have a large number of parent volunteers. They are an integral part of our school. This week, Volunteer Appreciation Week, I would like to draw attention to four members of our community who help out at our school despite having no children at Lyle.
Barbara Bristow, Monica Hoag, Jeanne Gray and Weston Gray come into Lyle school every week to tutor second, third and fourth graders in reading. These loyal volunteers work on developing many reading skills in an individualized setting.
They give the one-on-one attention that we busy teachers wish we could consistently provide. Thank you to these
excellent volunteers for making a positive difference for children.
Deborah White
Lyle Teacher
Dallas
--
Change is manditory
I think it's time the school board realized it must change with the changing times or become a relic of the past. The children have changed, the teaching methods have changed, new technologies and the global market economy have changed the very fabric of society, yet the school board remains locked up in a time warp. It's business as usual, just like it was in the 1950s.
I am for change. Lets try new things and measure the result, let's keep doing it until we find what works, and then keep doing it again until we find what works better. This process is called continual improvement. It has proven its worth in every important facet of our lives; it is the key to our success as a nation. Why not the school board.
I spent a good portion of my 45-year management and engineering career helping companies in crisis, just as I am volunteering to help our community with its school board's organizational crisis. Finger-pointing or placing the blame on others for financial problems is merely a symptom or manifestation of frustration that comes when old methods of operation are no longer able to successfully solve the new challenges of today.
Sure, I'm naive -- naive enough to think that every problem created by men can be solved by men, if the proper tools are used. I view reduced state school funding and the changing peers requirements as an opportunity to explore new ways of delivering a quality education to our children.
The board needs new leadership, new direction, and today's tools to solve today's problems.
Charles Blackwood
Engineer, retired
Dallas
--
Overreacting
I'd like to comment on the recent guest opinion piece by Lisa Bradford-Myers. As a resident of the Liberty Road neighborhood I travel past her house every day. I offer my sympathies to the lady for the loss of her beloved pet.
However, she is overreacting to the situation. Yes, people do sometimes exceed posted speeds when they travel on country roads. Liberty Road is no different, but motorists do not hit the high speeds she alleges.
The Polk County Sheriff's staff have their hands full already with bad people that are using drugs, beating their wives and burglarizing our homes.
Mrs. Bradford-Myers is being unfair to the sheriff and his deputies because they won't go out and arrest a woman who accidentally hit and killed a dog on the side of the road. The woman driving obviously was traumatized when she hit the dog, so of course she wasn't willing to stay and be screamed at by Mrs. Myers, who was also very upset.
There are laws about letting your dogs run loose, even in the county, although some poeple ignore them. Mrs. Bradford-Myers' pet would still be alive if her dog had been kept on her own property and not on the side of the road.
Mrs. Bradford-Myers' mailbox is right on the inside curve of the road and is quite close to the fog line as it is. ANY speed looks fast that close to the road.
I don't mean be to sound cruel to Mrs. Bradford-Myers, but Polk County Sheriffs are NOT at fault here. The posted speed on Liberty Road does NOT need to changed. Nor does it need to be regularly patrolled by county sheriffs, who have better things to do.
The Myers family has had their house on Liberty Road for sale long before this happened, so I think for them to petition to have anything done is inappropriate. It bothers me a little that someone who doesn't even want to live here any more wants the county to change something that most of us here think doesn't need changing.
Doug Pierovich
Dallas
--
Great success
Karen Rukke and Kim Paterson, special education teachers at Lyle Elementary School, had a dream come true last week.
The free Preschool Health Screening held April 8 proved that working together we are stronger and can accomplish what would be impossible without the synergy of a group.
Parents had the opportunity to have their pre-school children screened for vision, hearing, language, academic developmental readiness, articulation, nutrition, and fine and gross motor skills.
Lyle administration and staff were out in full force assisting in the coordination of this project.
Willamette Education Service District, Oakdale and Whitworth Elementary specialists, teachers and assistants greeted children, provided the assessments and chatted about child development with parents or provided child-care.
Many thanks to the following who contributed funds, supplies, and employees to support this opportunity and resource for families: all the medical and health care professionals who gave their time, Polk Fire District, Self-Sufficiency, Dallas Lions Club, Sodexo Foods, Laidlaw Transportation, Service Integration, Dallas Police Department, West Valley Hospital and the Dallas School District.
What is true of most dreams is that it took incredible energy and time but what fun to provide this service to a total of 93 pre-school children. This proved to be so successful that plans are underway for the Preschool Screening 2006!
Susan Gartland
Preschool Screening Planning Committee
Dallas
--
Unprofessional
I would like to tell the citizens of Monmouth what I witnessed at the City Planning Meeting on April 6.
The item of discussion was regarding rezoning of residential properties to commercial and the site plan of Walgreens proposed business on the corner of Highway 99W and Highway 51.
In opening comments, all eight members of the planning board stated they had done a physical review of said site. The members then heard arguments for rezoning and arguments against.
Arguments for included but were not limited to a representative of the development company and Dutch Brothers Coffee.
Arguments against included but were not limited to citizens from Monmouth and Independence.
During rebuttal by the development company board members, I heard them admit that they were not aware that the north end of High Street up to Jackson Street does not have sidewalks.
Is observation of sidewalks part of the site review and essential for proper planning?
During rebuttal discussion of sidewalks, Val Cooper of the planning board made the sarcastic statement, "Oh, so the people who have been complaining about their children's safety don't even have sidewalks in front of their house?"
The only people who "complained" about their children's safety live on Jackson Street. Both houses have sidewalks!
In my opinion, Mr. Cooper's statement was unprofessional, rude and a misuse of power intending to belittle the public.
Mr. Cooper's statement leads me to believe he does not possess the professionalism, benevolence, or insight to represent the fine community of Monmouth.
He is not the proper person for a position on our planning board. As these positions are appointed by the mayor, I would hope the mayor uses better judgment in the future.
Angela Buckholz
Monmouth
--
Supports Meyer
I am writing in support of LuAnn Meyer for Dallas School Board.
It has been my pleasure to get to know and work with LuAnn over the years on several fronts.
I served with her in the Dallas Rotary Club, where she has distinguished herself as a leader with an outstanding record of accomplishment.
The youth exchange program, in particular, has benefited greatly from her energy and commitment.
As a fellow member of the Valley Community Hospital Board of Directors several years ago, LuAnn was tireless in our successful efforts to keep the hospital open and running during a very challenging period of transition.
As a member of the Dallas Booster Club, LuAnn took the lead in establishing a fund with the Dallas Community Foundation that is dedicated to the support of Dallas school programs.
LuAnn's passion for education is evident in her commitment to her own children's schooling during their days in the Dallas district, as well as her involvement in campaigns and activities in support of the schools.
As an accounting professional with years of service in the community, LuAnn has distinguished herself as a person of integrity and a strong ethic of personal commitment and engagement.
As a member of the school board, LuAnn will bring an outstanding combination of professional skills and passion for kids and their education that will serve our schools and our community well.
I can't imagine a better new addition to the Dallas School Board than LuAnn Meyer.
I hope you will join me in voting for LuAnn Meyer, for the Dallas School Board.
Lane Shetterly
Dallas
--
Your choices
In response to Offended Eyes (April 13th):
W. Morris asks for help. Yes there is a simple two-step procedure:
(1) Go directly to the owner and purchase the properly. If its not for sale, simply up the offer to the point the owner can't refuse ... works every time.
(2a) Pour a metric ton of money into the building in question and restore it to its natural beauty. The reward for this: higher taxes for property improvement.
(2b) Tear the building down -- again to be rewarded with higher taxes, for ... you guess it ... property improvement. So good luck.
D.E.Maddox
Dallas
--
Meyer's his choice
Lu Ann Meyer is running for the Dallas School Board and I urge all of you to support her candidacy.
As mayor of Dallas, I have had the opportunity to work with and to watch Lu Ann as she has worked tirelessly to make the Dallas community a better place in which to live. While she has been active in many areas of the community, the one constant has been her dedication to the young people and the education system.
Lu Ann Meyer has been a tireless promoter and fund raiser for student activities that range from academics to international exchange programs to sports to fine arts. She believes that young people should have a good fundamental education, but must also have the chance to develop social, physical and artistic skills.
Lu Ann not only supported her own children when they were in school, but continues to be a major supporter of the educational system and student activities.
Lu Ann has shown that she cares about the education that every child in Dallas receives, not only today, but in the future.
If Lu Ann says she will do something, she does it as completely and as enthusiastically as possible. When this drive and enthusiasm are combined with her intelligence, common sense and innovation, the citizens of Dallas have the ideal candidate for the school board.
Her background in accounting is also a plus in this time of financial difficulty.
Lu Ann is intelligent, dedicated, and resourceful. She cares for and believes in kids. She has a track record of doing a superb job in whatever she does.
Therefore, I recommend Lu Ann Meyer to you as an outstanding candidate for the Dallas School Board.
Finally, no matter which candidate you support, please vote! Let your voice be heard!
Mayor Jim Fairchild
Dallas