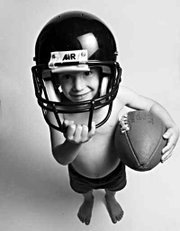 The day that J.R. Davis drowned, like all other days, started with the sun creeping over the horizon.
The skies were clear, the wind was mild, and the Davis family had rented a beach house for a week of sandy fun.
It was one of those rare hot coastal days when the waves break evenly on the beach and tourists join locals on the sand.
The Davises had stayed and played along that stretch of beach near Neskowin several times before. James Davis, J.R.'s father, had waded on that sandbar and body surfed those waves dozens of times. He felt safe there. It seemed a mild, sparsely populated stretch of coast -- not a private beach, but close to it.
James and J.R. never went more than waist deep into the tide. They splashed and played, riding the waves in and out. The water always deposited them with a gentle nudge.
"We were just wading out, watching the sea lions," James said.
Kathy, J.R.'s mom, watched their antics with mild interest from the dryest section of sand. She had no desire to swim.
Instead, she sat chatting with a friend, Bonnie Woods. Bonnie and her husband, Chad, had stopped by to visit the Davises. The two families, along with another group, had the entire day mapped out, planning to fill it with beach barbecues and memory makers.
James and J.R. decided to move up the beach a few feet, to where the water was breaking better. Before either could react, they were sucked out past the sandbar into deep water.
"I told J.R. 'We just need to swim in hard on this next wave and we'll be fine,'" James said later.
"I saw people on the beach and called for help. At that point J.R. started to panic a bit, but I got him calmed down. I told him we just needed to hang on until they rescue us," James said.
--
O
the beach Kathy noticed a crowd had formed about 20 yards from where she sat.
"I saw the crowd and got a funny feeling in my stomach," she said.
Kathy and Bonnie decided to investigate. It took Kathy a moment to realize that the two specs floating 50 yards out weren't sea lions.
"I can't really tell you what happened after that, because I was panicking.
"I kept looking for someone on the beach with a flotation device, a surfboard, anything," she said.
--
C
had Woods had wandered up the beach away from Bonnie and Kathy. He was silently enjoying the sound of the surf when he heard James' desperate cry.
A volunteer firefighter and reserve police officer, Woods had years of crisis training. He acted quickly. Shouting to a group of people on a balcony to call 911, he then grabbed an emergency life ring that was staked to the ground.
"The rope looked a little tangled so I just grabbed the whole post out of the ground," Woods said.
He ran to the water and tried to swim out to where James and J.R. were treading water.
"The current and undertow were just tremendous. Almost immediately I got sucked under and got pinned down with the life ring," Woods said.
The ocean spit him back onto the beach, as if jealously guarding its prizes. The puppy had become a monster.
--
I
the water, James was trying to stay close to his son, but the waves kept throwing them apart.
"It was hard, really hard, because it wasn't just a matter of swimming. The waves were constantly breaking on top of us, pushing us under," he said.
Exhaustion and frustration had set in. James could see people on the beach trying to reach them, but no matter how hard they swam, they remained trapped in limbo.
"It seems like you should be pushed in to the beach or pulled further out to sea, but we weren't. It seemed like no matter what we did, we just stayed in the same place," he said.
After more than 30 minutes, James and J.R. had reached their limit. The ocean was winning, and even though James still tried to comfort his son, he was scared.
Then, on the beach, flashing lights. The rescue team had arrived.
--
A
fter the ocean threw Chad Woods back to land, he moved a few feet down the beach to where his wife, Bonnie, was wading out.
They stood together waist deep in the section of water where James and J.R. first entered the surf. Another rescuer, Mark Fricker, joined them.
Fricker grew up surfing in California. He was used to the Pacific's fickle temper.
Together, Fricker and Woods used the rope and life ring to rescue James. Exhausted and believing that the flashing lights meant swimmers were going after his son, he allowed the two men to haul him from the waves.
"If I knew then what I know now, I would never have let them pull me out. I would never have left J.R.," James said.
The lights, the rescue vehicles that James had pinned his hopes on, belonged to a citizen response team -- a group of volunteers who lived nearby and were responsible not for rescue but for keeping any more civilians from entering the water and getting caught too.
The Coast Guard would not arrive for another five or 10 minutes. In that time, Kathy and James watched helplessly as another wave broke over J.R.'s head, forcing the 13-year-old under once more. He never resurfaced.
--
I
t has been a month since J.R. drowned. The Davises are still mired in grief.
Their house feels empty, they said. Losing J.R. was like losing three kids. He always had friends over, filling their home with a racket only teenage boys can create.
"Now it's almost dead silent," James said.
They move through the pain, not beyond it. Days slip by, passing time regardless of grief. The community has been incredible, the Davises said. Flowers and condolences from people they have never met fill space in their home.
At J.R.'s memorial, 450 people arrived to say goodbye. An anonymous stranger sent Susan, J.R.'s older sister, an engraved memorial locket to help her remember her brother.
--
What happened that day on the sunny Oregon coast haunts them. There will always be the "what ifs" to consider and the self-inflicted guilt. More than enough for everyone have to bear.
James has returned numerous times to look for J.R.'s body. And he questions the effectiveness of a citizen rescue group that can't enter the water.
Chad Woods wonders if he and Mark could have gotten to J.R., if they tried everything possible.
The Coast Guard runs public service announcements and has posted signs up and down the beach warning people about the hidden dangers of a benign looking beach, but are they forceful enough?
How do you counter the Pacific's lulling quality? On bright, sunny days it can seem no more hazardous than a hot tub.
Not long after James had been pulled from the water, while the Coast Guard still searched the currents for J.R., children began to reappear on the beach.
They ignored the signs and the earlier commotion, splashing and playing in the water.
Two memorial funds have been established in J.R.'s name. One, at Salt Creek Baptist Church, will pay for underprivliaged kids to attend summer camp. The other is at West Coast Bank. For more information: Salt Creek Baptist at 503-623-2976 or West Coast Bank at 503-623-9281.