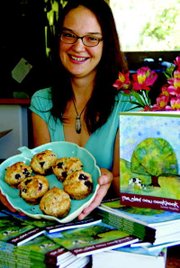 WEST SALEM -- Summer Keightley became vegan through a combination of fate and choice.
"When my son was 1, we started introducing cows' milk and he started to crave it. That's all he would eat, Keightley said.
"Then one day he got really sick. My husband, Stan, was home with him and he just started throwing up."
When Keightley and Stan started reviewing what Simon had been eating the day before they realized it had been mostly milk products.
They took him to the doctor, and Simon was quickly diagnosed with a food allergy. Though the doctor wasn't sure what food was causing the allergy, Summer decided to cut out dairy foods for a while to see what would happen.
"He got better almost immediately. He was happier and had more energy; he obviously felt better," Keightley said.
The problem as she saw it was how to offer her son a balanced diet without dairy products.
"I was still nursing him at the time, so I needed to cut out milk too -- which I wasn't very happy about," she said.
She had been a vegetarian for years, but when Simon got sick she found herself needing to relearn everything she knew about cooking and baking.
At that time, she was working at a book store and she noticed that a lot of parents were coming in who also had kids with milk allergies.
They were special-ordering all kinds of vegan cook books that taught them how to substitute for milk and animal products in their cooking.
Unlike vegetarians, vegans don't eat any animal products. No eggs, milk, cheese or meat -- none.
Keightley's husband had been raised as a vegetarian and Keightley herself didn't really like eggs, so "we gradually became vegan, because it just made sense not to have dairy in the house where (Simon) could get it," she said.
Keightley, who always loved to bake and had become an accomplished vegetarian chef, did a lot of research and learned a great deal about the chemistry of baking.
She has turned her five years of trial and error into a little culinary gem, "The Glad Cow Cookbook."
Keightley created all of the recipes during the two years she ran her own vegan baking company. They are developed for ease and speed.
"It would be helpful for people who are newly vegan or have family members who are vegan and never know what to cook," she said.
All of her ingredients can be found at mainstream grocery stores, and the recipes take no more time to prepare than any standard chicken dish.
All you need is a good blender, measuring cups, imagination and a sense of adventure. Keightley tells you how she does things, but leaves you room (in fact, encourages you) to tweak her recipes to your liking.
In a few cases, like her "basic muffins or quick bread" she gives you the basics and then suggests a few substitutions to illustrate how changing a few ingredients can completely change the taste. Don't want banana muffins? Substitute coconut for banana. Or lime zest or Marion berries.
Throughout the book she teaches how to make these dishes your own. Keightley hopes that by making her book simple and user-friendly more people, even non-vegans, will give her recipes a try.
Vegan food is perfect for people who are trying to get their cholesterol down, who have food allergies or who are just trying to eat healthier, she said.
"I just wish people weren't so scared of vegan stuff. Do I look like someone who wants to eat brown rice all day! No! I like to eat good food, and vegan food is good, it's not bland or boring," Keightley said.
"The Glad Cow Cookbook" is available at the Salem Borders, Food Fight in Portland or online at www.gladcow.com.
Keightley will be host a book release party at 7 p.m. Friday, Sept. 9 at the Dragonfly Cafe on 17th Street in Salem.
For more information: www.gladcow.com.