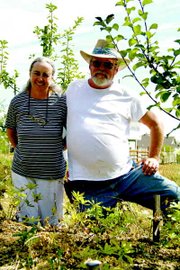 DALLAS-- Robert and Dee Morrow are enjoying learning about all the native plants they have on their 2.84 acres. It all atarted, Opal says, when they received a letter from the U.S. Department of the Interior in the spring of 2004.
The letter told them that they have the threatened plant Kincaid's lupine on their property, and that the Fish and Wildlife Service has formed a partnership with the City of Dallas and local property owners to protect the rare plant.
The lupine is the host plant for the endangered Fender blue butterfly.
The city hired engineering and consulting firm CH2M HILL to conduct surveys for the Kincaid lupine in June. City officials wanted to know where the plant is located and how to manage city mowing operations around it and remaion ion compliance with the Endangered Species Act.
It turned out, according to City Manager Roger Jordan, that the lupine is located only in the Oakdale area.
In late May and early June, adult female Fender's blue butterflies deposit eggs on the underside of Kincaid's lupine leaflets. The eggs sit for 11 to 20 days, then hatch and tiny larvae (caterpillars) emerge. The larvae feed off the lupine from March to early May, and form into a beautiful Fender blue butterfly in May.
Dee
Morrow said the Fender's are the size of a quarter. "The males are beautiful and silvery blue and the female are a brown color,"
she said.
Last May, the Morrows went on a hike at Basket Slough National Wildlife Refuge and met an employee from the Institute for Applied Ecology. The institute has been working with the Morrows on a project to locate native plants that are threatened in the willamette valley and collect the seeds.
"These native plants are not located everywhere in the world and we should preserve them," said Morrow. The seeds that the institute collected from the Morrow property will go to a lab to be preserved and planted elsewhere.
Department of Interior federal register data said that prior to the arrival of settlers, Kalapooya Indians cleared and burned the Willamette Valley floor, all the way to Eugene. Pioneers like David Douglas wrote that the burning was so extensive that there was limited food forage for his horse or game availability.
The valley was an open, park-like prairie with trees widely spread. These conditions helped threatened plants like the Kincaid's lupine and Fender's species thrive. Basket Slough data report that the kincaid lupine once covered 685,000 acres in the valley.
The Morrows' property was mowed on Aug. 15. The Fish and Wildlife Service cut the high grass and weeds around their now-withered lupine. Even though the plant has died back, larvae are in the ground, burrowing and preparing for a fall/winter hibernation.
"I feel honored to have all these plants on my property," said Dee Morrow.