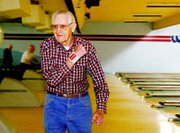 DALLAS -- Vern Lesley has been bowling for about 20 years. He can't remember when he started. It's been too long.
But it was after he retired from Willamette Industry sometime in the 1980s.
"I joined for exercise, and I bowled with a friend of mine who I worked with. He and another neighbor of mine, we all bowled together," Lesley said.
Now, the 90-year-old Lesley, who seemed shy about being interviewed, spends his Mondays at Starlite Lanes with the Super Seniors Bowling League.
He bowled with his wife for a while, but it's getting harder for her to get out of the house. However, they did go out Nov. 17 to celebrate their 69th wedding anniversary.
The Lesleys were married in 1936. They raised two children in Dallas -- a son who now lives in Salem and a daughter who resides in Hawaii.
Lesley is spry -- for his age or for any other. His stride
bounces like a child's when he bounds up the steps from the lane his team, "Out of Control," is bowling on.
During the last few weeks, Lesley has edged out teammate Betty as the squad's top scorer.
He averages about 148. He won't be winning any world championships, but he's helping to keep his team competitive in the standings.
Although he is often quiet, Lesley is a positive force and a shining example, his co-bowlers say. "He's just great," league organizer Sharon Martin exuded.
"This is just plain fun. I love bowling with these people."
The age range in the local senior leagues is 50 to 90.
"Vern's probably the oldest member we have in this league," teammate Betty Kathler said.
Starlite Lanes has hosted senior leagues since it opened in the 1950s. The Super Seniors League is just the latest installment. It's one of two senior leagues at Starlite. The other group, the Golden Rollers, meets on Wednesdays.
It costs each member $6.75 a week to play, and the Monday league has a banquet at the end of the season.
If someone subs for a missing player, the sub pays just $2 for the day.
"And we always need subs," Martin said.
"People miss days or go out of town for the Holidays or get injured."
For more information: Starlite Lanes, 503-623-4267.