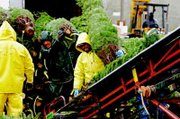 POLK COUNTY -- An ominous set of clouds begins to push its way west above the rugged Coast Range on a recent chilly afternoon, giving way to a steady, driving rainfall.
The weather, while cold and miserable, does little to slow the activity at Holiday Tree Farms's Red Prairie Division near Dallas.
Clad in rain slickers and pants, 100 or so of the company's employees shrug off the cloudburst and go about their business, passing freshly cut Noble and Douglas firs through balers. Branches are bound, and the trees are stacked by height in piles ready for shipment.
Farm manager Gene Carson watches from the facility's main office as forklifts load the trees onto conveyer belts and into semi-truck trailers.
Carson estimates that the wholesale operation will ship between 15,000 and 18,000 trees on this day. Their eventual destinations: Home Depot and Target shopping centers in California.
"The weather is actually good for the trees, though our people aren't exactly loving it," he said. "But it doesn't matter what the weather is like, you have to keep working."
Christmas tree farmers like Carson are currently ending the peak of the 2005 harvest in Oregon.
Industry representatives have stated that this season will mark the beginning of a slowdown for the commodity because of a growing surplus of trees from overplanting during the past couple of years.
For the time being, and despite some difficulty in recruiting labor and high fuel prices, most Polk County farmers are reporting business as usual.
"You don't know how well the industry will do as a whole until the retail season kicks in," said John Schudel, co-owner of Holiday Tree Farms last week.
Schudel said his company, Oregon's largest Christmas tree producer, harvests about a million trees annually and is expected to hit that target again this year.
"Everything so far seems to be shaping as a good season."
Oregon's Christmas tree industry is the largest in the United States. Almost a quarter of the 28 million trees harvested nationally are grown in the state.
Polk County ranks fourth among counties with the greatest production in Oregon. Christmas trees accounted for about $9.5 million -- or 8 percent -- of the county's agricultural commodities sold last year, according to the Oregon State University Extension Service.
One of the worries this year has been the potential for lower sales prices for trees because of oversupply.
"We'll probably see some softening of prices in the next three to four years," Schudel said. But "for now, we've been able to keep the prices the same as last year."
Carson said his company is selling its high-grade, 6- and 7-foot Noble firs for about $26 and Douglas firs for $13.
Those are both standard prices, said Chal Landgren, an OSU Extension Service forester.
Ken Brown, who runs a tiny 5-acre operation north of Dallas, said he's been charging about $5 a foot for high grade nobles.
Suzanne Miller of Christmas Knoll Tree Farms in Rickreall, a U-cut place, said she's selling Grand and Nordman firs for $25 and Douglas firs for $20.
"We've had a great year so far," said Miller, who expects to sell about 400 trees.
Fuel prices, labor and equipment shortages have been seen as other industry issues, particularly for wholesale operators charged with shipping their products across and outside the United States.
"In some cases there's a fuel surcharge that we pay trucking companies," Schudel said. "Some of that cost we pass onto customers, some of it we can't."
Brown said he's managed to keep his costs the same. Miller said it's been a non-issue for her, with customers responsible for hauling away their own trees.
Carson said attracting labor hasn't been a problem, though equipment was in short supply early in the season.
Carson said increased building in the region made it difficult to find forklifts and other equipment.
Mother nature has also been problematic, Carson said. Heavy rains have helped keep cut trees fresh, but foggy weather in some areas of the Willamette Valley has hindered operations that use helicopters to harvest trees.
"We didn't lose any time here," Carson said of Holiday's local farms. "Our Sublimity division, however, on some days couldn't start flying until noon."