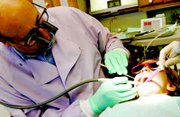 MONMNOUTH -- Dr. James Epple, who served Monmouth-Independence families for 35 years, retired from his dental practice on Dec. 15.
Epple opened his family dentistry office in Monmouth in 1970 and served hundreds of families and community members from throughout Polk County. He and his wife, Rose Marie, raised their three children, Jason, Jessica and Jamie in Monmouth. The Epples were very supportive and active in Central School District activities.
Some of Epple's most cherished memories -- aside from the close relationships formed while serving first, second and even third generations of family patients -- came from his many years as a civic leader in the community. He was honored with the Monmouth-Independence Chamber of Commerce's coveted Community Service Award in 1991.
Other civic activities included service in the Rotary Club for more than three decades; a term as president of the Western Oregon University Edgar Smith Fine Arts series; and two terms as president of the Western Development Foundation, an organization he served for 14 years.
Epple's dedication to excellence in treating his patients motivated him to keep abreast of new dental practices and technolog. He was a member of the Oregon Dental Association, the local MPY Dental Association, the American Academy of Gold Foil Operators, and the board of directors for the American Society for Preventive Dentistry.
Epple will be missed by his many patients and community friends. He and his wife will relocate in retirement to a newly remodeled home on the Oregon Coast.
His patients will continue to be served by five-year associate Dr. Michelle Hasbrook, who is the new owner of the practice.
More like this story