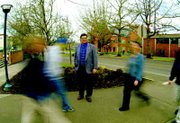 The public is invited to attend a farewell reception for John McArdle from 2 to 4 p.m. on Friday, Feb. 18 at The Cottage on the Western Oregon University Campus. Refreshments will be served. For more information: 503-838-8281.
MONMOUTH -- A picture set in a red, wooden frame hangs on the wall of John McArdle's sparsely decorated office inside The Cottage on the Western Oregon University campus.
It depicts a sunset. McArdle found it in a second-hand store in Eugene almost 20 years ago. His wife, Patty, said she hates the decoration, that "it screams 1970s." And John said he doesn't disagree.
But it's the inscription on the photo that's important, McArdle said.
"The greatest use of life is to spend it on something that will outlast it," it says.
McArdle said he likes to believe his 15-years in the University Advancement Department -- the college's fund-raising arm for scholarships and education enhancement programs -- were spent doing just that.
"That's one of the reasons I've liked doing this," McArdle said of his position, which he'll be leaving this month. "It's thrilling to have helped people do things for thousands of students over the years."
McArdle will be taking a job in March as the new director of development at Linn Benton Community College in Albany.
"It's a good opportunity for me and my family," McArdle said. "I'll be running the college's whole advancement effort.
McArdle said he and his family will continue to live in Independence and that his new job won't affect his duties as mayor or other community obligations.
"The only thing that's changing for me is instead of driving three minutes to get work, I'll be driving for 30," he said.
University Advancement was still a fledgling program in 1990 when then WOU president Richard Meyers decided to further invest program.
McArdle was hired in 1990, after years heading up fund raising efforts for amateur sports organizations in Oregon.
McArdle, department vice president Leta Edwards and Jim Birken, the director of fiscal management, have been the nucleus of the program for the past 15 years.
University advancement has only a little more personnel today than it did originally, Birken said.
But the scope and reach of department has grown by leaps and bounds.
"Since July of 1990 through June 30 of last year, we have raised more than $17 million in gifts," Birken said, adding that it represents about 82,000 individual gifts.
The school had 40 to 50 funds for specific programs set up to start with. It has grown to about 400. Birken said approximately $2.49 million in scholarships have been awarded.
Donations have come from citizens from all walks of life, from retired faculty to former students.
"Half of the kids in the university are the first members of their family to get to college," McArdle said. "So having these donors and businesses that want to donate funds makes a real differences in these kids' lives."
McArdle said one of the most memorable donations was one of the first, by a woman named Mary Donaldson, who graduated from Western in 1921.
Just before her death in 1991, she established an endowment fund for scholarships for students that were interested in teaching and volunteered in the community.
"Her family said creating the endowment was something she wanted to do before she died," McArdle said.
University advancement raised $3 million to help build the $14.3 million Hamersly Library in 1998. Edwards said McArdle played a key role in that project -- by going to the students for support.
Students agreed to pay an additional charge on top of their incidental fees to help furnish the library.
"It was an unusual proposal, we had never tried anything like that before," Edwards said. "But it worked."
McArdle has been highly involved with Western's Wolfpack Athletic Club, which raises money for sports scholarships. He also recently spearheaded an effort to get local businesses to sponsor school athletics by purchasing signage displayed at sports facilities.
McArdle said other memories abound from Western, outside of his duties. It was co-workers there who introduced him to Patty.
"My department is also the type that threw me a baby shower when my wife was pregnant," he said, then adds with a laugh. "It's a progressive enough place where we can throw a man a baby shower."