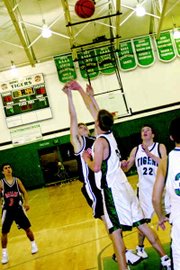 DALLAS -- Dallas' boys basketball team hasn't met with much success on the road during Pac-9 Conference play.
That went unchanged last week as the Dragons lost 95-65 at Canby on Feb. 15 and 58-55 at Tigard on Feb. 18.
"We just haven't played well on the road," Dallas coach Gary Burks said. "We only have one win on the road in the league. and that was at Woodburn. It's hard to make the playoffs if you can't win some games on the road.
"I think it's just (a lack of) patience and getting caught up in the moment. You shouldn't play not to lose. You should just come out and execute the game plan. On the road, it seems like we don't stick to our game plan as well as we should."
The Tigard game was a back-and-forth battle. Dallas scored the game's first five points, but the Tigers quickly bounced back.
Dallas trailed by three points with about 20 seconds to go when a three-point attempt by Dustin Hiebert rimmed out of the basket. A Tigard player grabbed the rebound, and Dallas was forced to foul with about 12 seconds remaining.
Tigard missed the front end of a one-and-one. Dallas grabbed the rebound, and Braun was fouled while attempting a three-pointer with 1.8 seconds left.
Braun made the first free throw, but, after a Tigard timeout, missed the second. He then missed the third on purpose, hoping a teammate could get the rebound. The Tigers, though, grabbed the missed shot, sealing the Dragons' fate.
"Again, it was a lack of patience on the road," Burks said. "Our average time of possession was maybe 10 seconds. We'd come down pass the ball once or twice and up it would go. Against teams like that, you have to make it like a boxing match. You execute and keep it close and deliver the knockout blow in the fourth quarter."
Senior Josh Dickey continued a string of strong outings with 25 points against the Tigers.
"I've been real impressed with the way he's played the last five or six games," Burks said. "He's made more progress than anyone in the program from his freshman to his senior year."
The Dragons played Newberg at home on Feb. 22 (results unavailable) and will finished the regular season at Silverton on Thursday, Feb. 24.
"The program has taken a step in the right direction," Burks said. "It's hard for some people to accept and understand not making the playoffs after returning everybody but one guy. Every year presents new challenges. This year was no different. We didn't have an easy road, but the kids still were able to persevere."