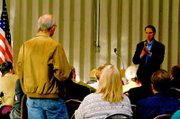 MONMOUTH -- Questions regarding the cost of health care, reforming the social security system and the war in Iraq were just a few of the queries posed by community members to democratic senator Ron Wyden during his visit to Western Oregon University Feb. 21.
"I hope each of you go home saying to yourselves that this is how democracy works and ought to be practiced," Wyden said. "You've come out and given me a sense of what this community cares about."
About 120 local residents and students attended the town hall meeting -- the first of two such gatherings for Wyden in Polk and Yamhill Counties on Monday -- in the Pacific Room of the Werner Center.
Many of the questions fielded by Wyden centered on the growing cost of health care insurance and the price of prescription drugs.
Wyden touched on a health care reform bill he co-sponsored that was recently passed into law. The Health Care that Works for All Americans Act will allow citizens to weigh in health care issues via public meetings and online surveys. Congress will be required to hold hearings based on their recommendations.
He also talked about his controversial proposal in which the federal Health and Human Services department would be allowed to negotiate prices of medication for people on Medicare with pharmaceutical companies.
"The government should use its bargaining power to secure a better deal," Wyden said.
Of Iraq, Wyden said he agreed with the Bush administration's stance that Saddam Hussein was a viable threat that needed to be removed, and that the recent ceasefire between Israel and the Palestinians showed progress is occurring in the Middle East.
Wyden, one of 23 U.S. senators to vote against military action in Iraq in 2002, also noted the war has cost American taxpayers hundreds of billions of dollars.
"What swung me was that I was not convinced that Saddam was the worst in the neighborhood," he said. "You have Hezbollah, the Iranians...that was the primary factor for me."
Residents also asked Wyden to weigh on sustainable energy sources and reforming the voting system, as well as more regional issues.
"I want to know your opinion on the methamphetamine epidemic," said Don Dutcher of Monmouth. "It's devastating lives in neighborhoods...I'm afraid the issue will take a backseat to terrorism."
Wyden stated that he's pushing to get meth categorized as a Class A drug in Oregon, "so it gets the highest level of scrutiny" by law enforcement agencies and in the courts.