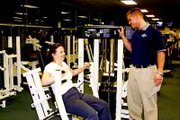 MONMOUTH -- She'll do upper body on Mondays and Thursdays, lower body on the days in between -- followed by half an hour on the treadmill or stair stepper after each workout.
Last week, Lorri Cooper stopped by the Monmouth Fitness Club to draw up a new fitness program. She'll be on the routine four days a week, though she's hoping to make it five or six.
"The goal is to lose weight, get fit and stay fit," said Cooper, a Monmouth resident and office manager for the Oregon Department of Agriculture.
The program isn't technically a New Year's resolution -- Cooper was given a membership to the Monmouth gym for Christmas.
Nonetheless, she'll join millions of other Americans kicking off 2005 by trying to get in shape.
This marks the busy season for gyms and fitness clubs across the country. Megan Jeffries, manager of the Monmouth center, said membership there typically climbs from 900 to about 1,200 during the first two months of a new year.
"Whenever New Year's rolls around, we get a lot of new members, either people joining or because they got (memberships) for Christmas from families," she said. "Or it's the regulars who are trying to get back into their old fitness goals."
Seasonal incentives, like free trial periods or reduced enrollment fees don't hurt, either.
So, does this sudden fervor for all things fitness last? Usually not.
More than half of all people who begin an exercise program abandon it after six months, according to a study from the Exercise Psychology Department at the University of Georgia.
Tony Jeffries, a personal trainer at the Monmouth club, said activity is back to normal by mid-February.
Some people quit once they lose their holiday pounds, or when their gift membership is used up. Other people go gung-ho for the first four weeks, then crash and burn, Jeffries said.
Then "life just gets busy again," he said. "And exercise doesn't stay a priority."
There are ways to help ensure a fitness program doesn't go by the waste side, Jeffries said. One is making exercise as normal a part of your day as going to work.
"Exercise is a lifestyle choice, it's about finding the time of the day to put it in," he said. "If you can't make it to the gym, go for a walk, just do something active."
Jeffries said he tries to switch up his clients' regimens, adding new elements to a workout program as the weeks progress, whether it's concentrating on a certain muscle group or enrolling them in a spinning class.
"You try to...have them do something new every week, so they won't get bored," he said.
Jeffries also does body compositions and tape measurements with some clients.
"Scales aren't the way, because weight fluctuates at different times of the day," he said. "But if people can see that they're getting results on paper, it helps motivate them."
Monmouth resident Mike Ross said when he came in, trainers sat down with him and asked him his fitness goal -- which was to lose 30 pounds. Together, they worked out a program to accomplish that. Having a focus helps, he said.
"I think when most come in, they see all the machines and try to do everything at once," Ross said. "They have no idea."
Ross said he doesn't get an opportunity for much physical activity with his job at Western Oregon University's computing services department. He plans to stick with his workout indefinitely.
"I guess you could say my resolution is to still be working out here during next New Year's Day," he said.