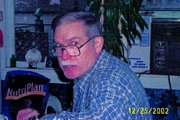 POLK COUNTY -- The Polk County Sheriff's Office will be adding the mysterious disappearance of Glenn Pennie to its inactive case list.
This comes after nearly three months of chasing leads and conducting interviews with more than 50 individuals throughout Oregon and Northern California.
The county has had five investigators following the case full time since Pennie vanished without a trace from his home in October.
"We aren't closing the case," said Sheriff Bob Wolfe, who noted one detective would continue to follow the matter as new clues surface.
"But a lot of other cases have been backlogged because of this and lacking any aggressive leads, we can't put any more time on it right now."
Pennie, a 56-year-old electrician, was last seen at his home at 14970 Airlie Rd. by his neighbor, David Fetter, the afternoon of Oct. 3.
He had been planning a trip to California and was scheduled to be in Oakland for a court hearing regarding the estate of his late father.
His daughter, Christina Pennie, filed a missing person report Oct. 5, after Glenn Pennie failed to show up for the probate appearance.
Wolfe said the estate hearing is believed to play a role in the case.
"It's key because he had everything to gain by going down there, it was something he'd planned for...there's no way he would have missed that date," Wolfe said.
Wolfe said detectives and deputies -- some of which were pulled off their regular patrols -- have contacted several of Pennie's acquaintances and family members throughout the Willamette Valley and in California, in hopes of turning up a clue.
For at least one month, officials spent five to seven days a week investigating the case.
Wolfe said Glenn's brother, Dale Pennie of Coos County, remains a person of interest because of a strained relationship between the two.
Wolfe added, however, that Dale was able to account for his whereabouts at the time of Glenn's disappearance. He also said that Dale Pennie believes his brother is still alive.
"At this point, we have no evidence to prove he's deceased," Wolfe said. "But, do we suspect foul play?
"Yes."
Christina Pennie, a police dispatcher in Portland, was named conservator of Glenn Pennie's property last week. As Glenn's heir, she's also consulting with lawyers regarding her grandfather's estate.
Wolfe said he doesn't believe his office is much closer to rooting out Glenn Pennie's whereabouts than it was three months ago.
"We desparately wanted to bring this to a conclusion," he said, "if nothing more than to bring Christina some piece of mind in knowing what happened to her father."
Anyone with information on the Glenn Pennie case is asked to call Det. Burney Krauger of the Polk County Sheriff's Office at 503-623-9251.