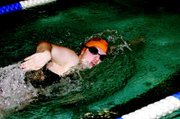 DALLAS -- Dallas' swimming team capped a busy two weeks of activity by hosting McMinnville on Jan. 13.
The meet was the Dragons' fourth competition over a span of eight days.
"The kids continue to impress us with their times and their attitude and their sportsmanship," coach Vicci Mathis said. "We have had some of the newer kids asking to do some of the tougher events like the 500 freestyle, the 200 individusal medley and the 100 butterfly."
Teri Braun set a personal-best and finished first in the 100 freestyle in 59.40. Braun won the 100 backstroke as well with a 1:11.01 clocking.
Bruan once again broke her own school record in the 50 freestyle in a Jan. 11 meet at Canby, finishing in 27.02.
Jessica Cortez took first in the McMinnville meet, winning the 200 individual medley in 2:42.03.
Dallas took second in all three relays. Braun, Cortez, Jasmine Catto and Anna Pinotti teamed for a 2:13.12 in the 200 medley relay. Braun, Pinotti, Jessica Cortez and Jennifer Cortez finished the 200 freestyle relay in 1:59.89. Elly Dickie, Amanda Cooper, Elisha Munro and Madi McGuire finished the 400 freestyle relay in 5:04.91.
Other personal bests were set by Jessie Brown (100 freestyle, 50 freestyle), Brian Bull (500 freestyle), Rebekah Butterfield (50 freestyle, 100 freestyle), Catto (200 freestyle, 100 breaststroke), Matt Clark (100 breaststroke), Cooper (200 individual medley), Jennifer Cortez (100 breaststroke), Dickie (100 freestyle), Tom Disher (500 freestyle), Breanne Francom (500 freestyle), Angela Green (100 freestyle), J.T. Guerrero (200 freestyle, 100 butterfly), Brittany Hall (50 breaststroke), Melanie Hamilton (100 breaststroke) and Spenser James (200 freestyle, 100 freestyle).