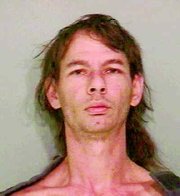 MONMOUTH -- A Monmouth man was arrested Jan. 15 in connection with the death of his 3-month-old daughter.
James D. Newland, 34, is accused of manslaughter in the first degree following the Jan. 14 death of his infant child. He's also been charged with criminal mistreatment, third-degree assault, escape and resisting arrest.
Newland was being held at the jail, with bail set at $142,500. He was scheduled to appear in Polk County Circuit Court after press time 6Jan. 18.
The girl was brought into West Valley Hospital -- though it is unknown by whom -- during the early hours of Jan. 14, Fisher said.
She was then transferred to Doernbecher Children's Hospital in Portland for further treatment.
Hospital officials notified Monmouth police of the death about 4 a.m. Jan. 14, Police Chief Darrell Tallan said.
An autopsy performed by the Oregon Medical Examiner's office and the subsequent investigation by the Polk County Major Crimes Team led to Newland's arrest.
Child abuse was named as the cause of death, Fisher said. He declined to elaborate further. County authorities are still examining the case.
Fisher said the girl had lived with her parents in Monmouth prior to her death.
Tallan said the mother of the child was not charged in the crime. He declined to release her name.