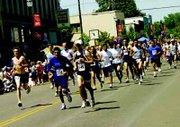 POLK COUNTY -- In many if not most organized running events, participants are cheered by onlookers only at the start and finish.
In between, they largely are left to themselves, alone with the sounds of their own deep breathing and feet pounding endlessly on the pavement.
Not so with the 33rd Mini-Marathon, which was held on a warm and sunny July 4. A field of 166 started at Monmouth City Hall and finished at Independence City Hall. They were encouraged virtually every step of the 2.6-mile course by scores of patriots locked into place for the race and the following Fourth of July parade.
"I love the crowd, and I love the fact it's my hometown," said Monmouth native Lisa Welsh, the first female finisher in 15:19.1. "I love having people cheer for me. I have a lot of friends here. This might by the smallest race I run in terms of how many people are running. But it's the most in terms of how many people I know.
"I try not to miss this race if I can help it. It's good to meet old friends. It's always good for that, too."
Welsh ran in college at Pacific Lutheran University and currently is working on a master's degree at Oregon State. She has run in "six or eight" Mini-Marathons, winning once previously. She finished second her last time out two years ago.
"I was hoping to win after missing it the last time," Welsh said. "It was a little warmer than what I expected. It went well. I saw the mile mark -- I'm not sure how accurate it was -- but I hit it in 5:40, which is pretty fast for me. I didn't know if I could keep it up. There were two guys running with me. We definitely helped keep each other going."
Well ahead of them was Corvallis native Tim Riley, who ran away from everyone to take first overall in 12:40.7. Roger Cross was second in 14:08.2 and Central graduate Nate Reese was third in 14:18.4.
Riley was an All-American in the 3,000 meters at Eastern Oregon. He currently resides in Boise, Idaho and was running in his first Mini-Marathon.
"I had heard great things about it," Riley said. "I'd always wanted to do it. I finally got a chance to do it. It's a little short, but it's a great little race.
"I had heard there were some pretty good runners here. I just went for the win. Whatever (time) I ran was fine with me. The first mile was a little quick. It was nice to have people cheering for you the whole way. It kept you going."
Among the day's other notable achievements were 16-year-old Nick Huggins taking eighth overall in 15:12.3. Glenn Frick, age 66, finished 16th with a time of 16:44.1.