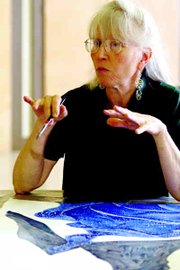 DALLAS -- Susan Osher sits at a table in a large common room in the United Methodist Church in Dallas. Her long graying blond hair spills forward and sweeps her canvas.
It's restrained by getting into her paint by the headphones arched between her ears. She is lost, gazing with stern concentration at the mythical image swirling into shape before her -- growing and glowing out of the white watercolor paper.
Osher started painting in 1987 when she signed up for a watercolor class at Chemeketa Community College. Eighteen years later, she is still expanding and exploring her technique.
She pauses, removes the headphones, and with reluctance peals herself from the world of creativity to discuss her work.
"Most of my paintings are about the sacred feminine (image) -- inspired by legends, myths and time immemorial... . Some of my ideas come from my readings, others from dreams," Osher says.
Osher reads a lot. Quantum Physics, Native American Legends, Eastern legends, mythology of all kinds. It is in these ancient stories of creation and destruction that she finds a pulse to follow; a muse for modern spiritual exploration.
Then there's music. She is never without headphones and tapes. Transcendental, spacy modern, ancient Native American, anything that inspires concentration.
"Music plays a big part in my work, especially Native American music. And Lisa Gerard. I listen to a lot of Lisa Gerard."
Osher's work has hung in galleries around Oregon, but she doesn't often sell it. She says she gets too attached, that it's too personal somehow.
So, she paints in her free time and what space is available at home. Once a week she meets with fellow artists at United Methodist Church. They call themselves the "Wednesday Artists" and they are a diverse group.
Founded in 1987, by Osher and Charlotte Lamb, the lose-knit group pitches in to rent the common room at United Methodist from 1 p.m. to 4 p.m. on Wednesdays.
Osher comes whenever she can. She says it is the only time she gets any painting done.
"I can get a lot of drawing done at home, but I don't get any painting done until I come here. I'm not sure why," Osher says, dabbing at her pigments.
"The lighting's definitely better here," she says, grinning.
The Wednesday Artists are open to any artist who wants a place to work. It's not a workshop -- no one teaches classes -- but they occasionally do group critiques. Many of the artists display and sell their work in and around Dallas.
Some, like Osher, will have their work displayed during the Summerfest Art in the Park Celebration on July 31.
To check out Osher's work, visit the Art in the Park celebration, or keep an eye out for her upcoming book, which will be for sale at the PEARL Gallery.
More like this story