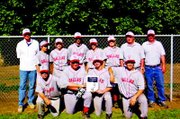 ♦
Jerusha Dressel and Hayden Lesko of the Dallas Blue Dolphins swim team have qualified for the state swim meet July 16-17 in Albany
. Dressel qualified for state in the 50-meter breaststroke (time of 43.60), 50 freestyle (32.74) and 100 freestyle (1:12.32). Lesko qualified in the 50 backstroke (54.73), 100 freestyle (1:30.73) and 50 freestyle (38.59).
♦
An Olympic water polo clinic will be held July 30 at the YMCA pool at 490 I Street in Independence
. Session I is for ages 10-13 and lasts from 9 a.m.-noon. Session II is for ages 14-18 and lasts from 1:30 p.m.-4:30 p.m. Instructors include US Olympic water polo team veteran Nathaniel "Wolf" Wigo. For more information, contact Rob Kerr at 503-838-0184 or rkerr@mapscu.com.
♦
Marquis Spas of Independence is hosting the Chip In Fore Children golf tournament on Sept. 16 at Ilahe Country Club in Salem
. All proceeds will benefit Family Building Blocks, which serves children and families in Polk and Marion Counties. Play in the four-person scramble begins with a shotgun start at noon. The entry fee of $250 per person includes green fee, cart, range balls, box lunch, prizes and dinner. Various sponsorship opportunities also are available. For sponsorship opportunities contact Suzanne Littrell at slittrell@marquiscorp.com or 800-275-0888, ext. 161. To register, contact Summer Cornell at scornell@marquiscorp.com or 800-275-0888, ext. 160.
♦
The Dallas Summerfest Fun Run will be held on July 30
. All events start and finish at Dallas City Park. There will be a one-mile run at 8 a.m. and a five-mile run at 8:30 a.m. Registration is $7 before July 15 and $10 after July 15. There also will be a free obstacle course for ages 4-7 from 8 a.m.-9:30 a.m. Registration forms are available on the Dallas Chamber of Commerce Website at www.dallasoregon.org.
♦
The Dallas Basketball Association is sponsoring the Dallas Summerfest 3-on-3 Basketball Tournament
. The tourney will be held July 29-31 in the parking lot of the Academy Building, 182 SW Academy St. There is a maximum of four people per team. The entry fee is $80 per team. There are boys and girls divisions for grades 5-6, 7-8, 9-10, 11-12 and adults. Registration is from 6 p.m.-9 p.m. July 29. The skills challenge begins at 6 p.m. July 30. Play in the 3-on-3 event begins at 9 a.m. July 31. Referees will be provided. Rules will be posted at registration. For more information or to obtain a registration form, call Tod Brostrom at 503-623-4542 or 503-931-1595.
♦
Wildcat Hoop Camp will be offered in three sessions this summer
. Girls entering grades 4-8 will meet from 1 p.m.-4:30 p.m. on July 25-28 at Dallas High School. Boys entering grades 4-8 will meet from 1 p.m.-4:30 p.m. on Aug. 1-4 at DHS. Boys and girls entering grades k-3 will meet from 9 a.m.-11 a.m. on Aug. 1-4 at Whitworth Elementary. Fundamentals and sportsmanship will be stressed. The cost of $50 per session includes a camp t-shirt. Registration forms are available at Whitworth, LaCreole and the Dallas Aquatic Center. Forms can be turned into Craig Button at Whitworth or Brian Williamson at LaCreole. The registration deadline is July 15. For more information, call Button at 503-623-4894 or Williamson at 503-831-0251.
♦
♦
The next Dallas Easy Summer Bike Ride will be to the Buena Vista Ferry and back on Aug. 6.
Rides start and end at Santiam Bicycle, 179 SW Washington St. in Dallas. Rides begin at 8 a.m. All adults are welcome. There is no charge. The final trip for this summer is to Corvallis and back on Sept. 10. For more information, call Wayne Sitkei at 503-831-1459.
♦
A Masters swimming team at the Dallas Aquatic Center is accepting new members
. The annual fee is $25 per person or $45 per couple. The team is open to swimmers of all ability levels, 19-and-older. Participants are not required to swim competitively, but that option is available. Practices are set from 6:30 p.m.-7:30 p.m. on Wednesdays, but team members also can set their own practice times. The coach is Shelley Blain-Reimer. For more information, call the Aquatic Center at 503-623-9715.
♦
Central Youth Sports office hours are Wednesdays from 6 p.m.-8 p.m
. The CYS office is located at 169 S. Broad St. in Monmouth. The CYS phone number is 503-838-4013. The CYS Website is www.centralyouthsports.com.
♦
Dallas
Kids, Inc.
is located at 187 SW Court St
. The Kids Inc. phone number is 503-623-6419.
♦
For additions to the Sports Briefs section, please contact Sam Scott at 503-623-2373 or by e-mail at sscott@eaglenewspapers.com
.
this is a line of normal face copy so my machine doesn't go bonkers.