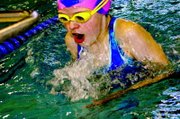 DALLAS -- Jersuha Dressel and Hayden Lesko of the Dallas Blue Dolphins took part in the state swimming meet on July 16-17 at Albany.
Both of the Dolphins qualified for three different events in the state meet.
Dressel's best finish came in the 10-and-under 50-meter freestyle. She took 14th of 21 swimmers with a time of 36.39. She also took 10th in the 50 breaststroke in 49.99 and 17th in the 100 freestyle in 1:22.35.
"I was really nervous, but I knew I would have fun," Dressel said. "I normally get nervous before every meet, but this is a really big meet. This has been my goal every since I started swimming, which was a year ago. I was kind of nervous because I finally made it. They're the fastest swimmers. I wasn't up there at first.
"They did it the same (at the state meet), but the pool was longer. It was 50 meters and it's usually, like, 25 meters. It takes longer to get to the other end of the pool. You don't get that extra push off the wall."
Lesko, swimming in the 8-and-under division, finished ninth of 17 swimmers in the 50 freestyle with a 42.58 clocking. He also took 12th in the 100 freestyle in 1:45.26 and 26th in the 50 backstroke in 1:00.17.