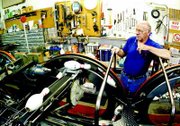 DALLAS -- Loren Faxon moved to Dallas in 1961 to work as a mechanic at Starlite Bowling Lanes. And as a bowler, he gave himself five years to get his average above 200.
If he couldn't proved his game to that level in that amount of time, he vowed, he'd find a new job.
Five years later he was buying an upholstery shop.
"I've never been the best bowler, but I enjoy the game," Faxon said with a shrug and wry smile.
He soon sold the upholstery business and bought the Short Stop Inn (now the Courthouse Pub) in downtown Dallas.
He had an on-again, off-again love affair with the Short Stop, and sold it for the fourth and final time last spring.
Then, about seven years ago, Faxon returned to the bowling business by buying Silver Creek Lanes in Silverton. Four years after that he returned to Starlite lanes -- this time as the owner.
Things had changed a lot since 1961. The machines are more reliable, so there was no need for a full-time mechanic. And though fewer people are bowling, the game averages are out of control, he said.
"We have to use 20 times more oil just to keep the ball in the lane, because the balls have changed so much that the average hook went form 2 percent to 40," Faxon said.
"In '62 there were something like two people who averaged 200 in the state. Now there's closer to 200."
The technology has dramatically change too. Gone are the days of two-inch pencils and adding three frames. Now, in addition to automatic scoring, the bowler is taunted by dancing pins and congratulated by cartoons.
"These machines run way better and it doesn't take a full-time mechanic anymore to make them work," Faxon said.
"We used to oil the lanes with a spray can and dust cloth. Now, we have a $2,000, completely automatic contraption that I can't run to save my life," he concluded with a chuckle.
The patrons have changed too. Gone are most of the leagues -- now people bowl when the mood strikes.
Group dates and class field trips are the norm.
"We've turned into 'entertainment centers' because we've got to have something for the kids and the adults to do," Faxon said.
Faxon finds it lamentable that bowling leagues are a dying breed. "When I worked here in the '60s we had double (early and late) leagues every night. Now, we're lucky to have a single league. League numbers have been dropping since 1968."
But there are some positives. Last year the bowling powers that be established a single governing body. This means that bowling may finally be admitted as an Olympic sport.
Having three different governing bodies competing for control has always kept it out of the Games, but now Faxon sees it having a chance.
Also, most bowling centers (it's uncouth to call them "alleys") are attracting kids by offering other types of entertainment, like pool and video games.
In bigger communities high-dollar fun centers are being built that include off-site betting on horse races, arcades, batting cages, go-carts and bowling.
Faxon said some of these fun centers are too ambitious and the owners are forced to sell after the first year, never recouping their investment. But others (like a huge one in Bend) survive.
As for the local lanes, "We're pretty much status quo, but we've always got to come up with something new to draw them in," Faxon said.