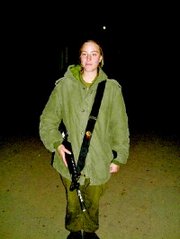 MONMOUTH -- Francesca Guralnick has spent much of her life studying Israel's culture and history through the Zionist youth movement she has belonged to since childhood.
As a young adult interested in pursuing a career in international politics, she has monitored from afar the violent territorial conflict between the Palestinians and Jews.
So when the opportunity arrived for her to live and volunteer in the Middle Eastern nation, she felt compelled to go.
"I've been learning about this country my whole life, I have friends who live there," she said. "I wanted to experience it for myself."
Guralnick recently returned from a 9 1/2-month visit to Israel, where she lived in a traditional Jewish settlement and spent several weeks as a "grunt" in the Israeli army.
Guralnick, a 20-year-old Central High School graduate from Monmouth, admits there was some apprehension in traveling to a place perceived as under constant danger of terrorism.
The opportunity to see the Western Wall of the Temple Mount in Jerusalem or cruise Benihuta Street -- which still bears bullet holes from the 1967 War of Independence -- outweighed any fears, she said.
"When Yassir Arafat died, I was there," said Guralnick,.
"When the disengagement was happening," she said, referring to the decision-making process by the Israeli government to remove its people from the much-disputed Gaza Strip and sections of the West Bank, "I was at a gathering where Ariel Sharon spoke and was interrupted by protestors."
When a Jew reaches the age of 18, he or she is faced with a decision about how involved to be in the Jewish community.
As part of the Zionist movement, which essentially states that all Jews are entitled to a national state and homeland, people are encouraged to return to Israel and settle there. Each year, tens of thousands of teens like Guralnick choose to take part in Zionist youth exchanges in Israel as a way to explore their culture, give back to the community through volunteer work and reconnect with their roots.
Guralnick traveled to Israel last August with a group of Jewish youths from several countries. One of their first experiences was living in a kibbutz, an Israeli community where residents live a sort of collective existance, in the southern city of Ketura.
There, Guralnick picked dates, helped with the landscaping and performed other shared duties with the town's residents.
"It was very unique," she said. "I was basically living the way people did during the birth of the country."
Afterward, Guralnick and others spent nine weeks traveling around different military bases in Israel, for basic training with the nation's army -- which has mandatory service for men and women over age 18.
The experience can best be described as a quasi-boot camp; The group was never in danger of being put into active service, Gurlanick said.
Still, Guralnick said putting together an M-16, going on night patrols in the Negev desert and facing domineering commanders -- "in a language I didn't understand" -- did give her glimpse into the life of a soldier.
One of her most surreal experiences came as she was touring a military base in Rosh Hanikra, an Israeli city near the border of Lebanon.
About 15 meters away from their military checkpoint was a guard tower located within the neighboring Arab country. It was manned, her commanders said, by a member of the terrorist Hezbelloh organization.
"He flipped us off," she said. "It was amusing that he would do that, and even more so when you have commanders instructing us us not to point guns at him because it would start an international incident."
Guralnick, who plans to attend Western Oregon University next fall, said her most accurate experience of contemporary life in Israel came in Jerusalem, where she studied Hebrew and politics at a local university.
It is similar, in some respects, to home. There are malls, and many of the same clothing chain stores and fast food outlets.
But in other ways it is not. It isn't uncommon to see soldiers walking about carrying machine guns.
"Kids there are like us, but more mature," she said. "Because so many of them are in the army, they're worrying about their commanding officers, about the political climate because it affects them so directly.
"Compare that with being here, where the biggest worries are passing classes and what you're going to do on the weekend."