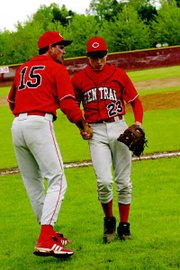 INDEPENDENCE -- Central's Dale Cutsforth recently was named coach of the year on the Class 3A all-state baseball team.
It was the first time Cutsforth had been named the top coach in 3A. While he's appreciative of the recognition, it also comes with a chaser of regret. It's impossible for the coach to look back on the season without remembering a disappointing and frustrating 2-1 loss to Ontario in the second round of the playoffs.
"Actually, as a team I feel we should have done a lot better," Cutsforth said. "We should have competed a lot better. But it makes me realize how close we are to taking that next step. People around the state are realizing Central baseball is on the map. It makes me feel good that my peers around the state would think that about our program.
"Words can't describe how honored I am. But when you look at what we can do, I think we've only scratched the surface. We've got great kids here and a great community that's been very supportive."
The all-state teams are selected by the state's coaches.
"That's the thing I'm really honored by," Cutsforth said. "It most definitely means a lot more. My peers thought enough of me to have this honor even though we didn't get past the second round. It means the program is heading in the right direction, although we've still got some work to do. That's the nature of the beast. You never want to be satisfied."
Cutsforth wasn't alone on the all-state team. Outfielder and Atlanta Braves draftee Justin Reynolds hit .444 for the Panthers and was chosen for the first team.
Pitcher Andrew Waterman, infielder Joe Pratt and outfielder Tim McElravy were selected for the second team.
Waterman went 15-1 on the season with a 1.06 earned run average. McElravy batted .540 and played center field. Pratt played a solid shortstop and hit .480.
"Actually, I take more pride in that," Cutsforth said of the recognition his players received. "I have a few more guys I'd like to see up there. Some programs have guys who might be great athletes but aren't good role models. We've got kids coming through here who are not only great athletes but are good role models, too. That's the type of kid who's coming out of our community.
"It's an honor to coach here. The kids really respond to what you're trying to teach them. I look forward to coaching next year."
Cutsforth also praised his coaching staff of Tim Kreta, Kraig Davis, Andrew Stockner and Henry Mendazona.
"You're not going to get honors like these without great coaching," Cutsforth said.