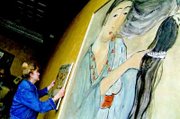 DALLAS -- Jan Koot (pronounced coat) has lived and traveled all over the world. She spent most of the late 1970s and early 80s as the art and antiques editor for Architectural Digest, and has taught art history at many of the universities in the Northwest . Now she's living, teaching and painting in Dallas.
Hoot was born in Kentucky but her family moved to Southern California when she was 12. She remembers, as a young child, pending a lot of time running wild on her grandfather's horse ranch.
This early exposure to farm life (horses in particular) provided Koot with her first muses, and they continue to speak to her today. They prod her to produce paintings like "The Wild Mare of the Dunes" (currently on display at the Freed Gallery in Lincoln City) and "Homage to Muybridge IV", which is part of a series of paintings on display at the PEARL Gallery throughout March.
Koot's formal education is in art history, not painting, and she has spent most of her adult life researching and learning from the masters.
In her artist's statement she wrote: "I do not think that one can be a good painter if they don't know what has happened before them."
It is this sense of historical continuity that inspires her style. Koot's technique draws from Impressionists like Dega, the Dutch Masters, Leonardo da Vinci and, at times, Japanese classical ink drawings.
"I use my own fresco technique that adds a lot of layers and texture to my canvass and all archival materials, because I believe that if you are going to produce art it should be of museum quality," she said.
Working mostly with oil paints on canvas, Koot will occasionally incorporate other media into her works. One such painting will be unveiled at the First Friday Art Walk on Friday, March 4.
"I won't say what it is, because it's a surprise for all my students. But it is something that I've wanted to do for a long time," Koot said.
Koot is a teacher first and foremost. She said that she treasures the experiences she has had working with young people, and inspiring their passion for art preservation.
In turn their youth and energy have pushed her to greater creativity.
"Students have and always will be an influence on my work - -they keep this old coot -- pardon the pun -- young," she said.