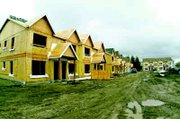 MONMOUTH -- A $2.86 million, 16-unit townhouse complex on the campus of Western Oregon University should be completed by the end of July, school officials said.
Construction crews are currently erecting framework and installing the roofs of the buildings, as part of the second phase of WOU's Arbor Park residential community on the west edge of the campus, off Stadium Drive.
The combined 16,000-square-foot complex will be for students with families or dependents at Western, or newly hired faculty or staff.
The first phase of Arbor Park, 210 units for upperclassmen, was completed in 2003.
The university has been in need of more family housing since it razed the old Campus Estates complex -- which contained 40 units -- near Hamersly Library a few years ago, said Darin Silbernagel, director of business services at Western. The school still operates several apartments for families on Knox Street.
About 25 percent of Western's nearly 5,000 students dwell in campus residences. so-called "non-traditional students" -- those over the age of 22 -- account for nearly 45 percent of the enrollment.
"We haven't been able to meet that need for a while," Silbernagel said. "We've had people asking for this -- that they'd like to live on campus and be part of this community."
The new complex will consist of four separate buildings, each housing four 1,150-square-foot units.
The two-bedroom townhouses will rent for $700 and include a living room and dining room, full kitchen, air conditioners and a washer/dryer setup.
Silbernagel said the housing would also be unique -- at least until the Monmouth-Independence Network expands to residential areas -- in that each unit will be outfitted with high-speed broadband Internet service from the campus.
The $2.86 million project is funded with a bond which will be repaid through rents and other fees.
Besides additional space for students, university President Philip Conn said, the project would also supply needed transitional housing for newly hired faculty members at Western. That will keep those employees living within the community, a plus.
"We like to have faculty and staff opt to live in Polk County, but often find that there is a lack of temporary housing," Conn said. "It's a problem for them to rent a house and a greater problem if they feel compelled to buy something."
Tina Fuchs, director of university residences, said the original scope of the project called for 32 family housing units. Officials may build those additional facilities as demand for family housing increases in the future.
The work on Arbor Park is just part of the construction occurring at Western. Work crews are also installing new sidewalks and lighting along Monmouth Avenue and sections of Stadium Drive.