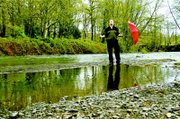 POLK COUNTY -- Local governments and water districts in Oregon have been taking a hard look at how the lack of precipitation in the state up until this past weekend will affect water supplies come summer.
For incorporated cities in Polk County, the question of how serious the situation is -- and at what point the drought becomes an emergency -- is relative to where that water is derived.
Communities that rely on surface water -- Dallas and Falls City -- could experience more problems than cities that tap wells if the dry weather continues during the coming months.
"We believe we're going to have enough water going into the summer," said City Manager Roger Jordan. "Right now, it's too early to tell if we will, in fact, need to have a plan for the community."
Dallas's sole source is Mercer Resevoir, which draws water from Rickreall Creek. Teal Creek and Glaze Creek supply all of Falls City's water.
Streamflow into Mercer Reservoir is currently only about 3 inches above the top of the facility's spillway, a condition that doesn't occur in a normal year until June, Jordan said.
If that spillover stops, the city could be left with a finite 500 million gallons in the reservoir to serve Dallas's municipal and industrial needs and maintain a flow in Rickreall Creek, Jordan said.
The city uses about 4 to 6 million gallons of water per day during peak months.
Without significant rainfall by May, Dallas would need to take additional measures -- conservation or rationing -- to preserve the summer water supply, officials said.
City staff is recommending adding extensions to the reservoir walls -- called flashboards -- sometime next month to help retain additional water.
The creeks that serve Falls City's population are 20 percent to 30 percent lower than during a normal year, said Don Poe, public works supervisor.
The weather this spring will determine if the town will have to implement measures for water conservation, Poe said.
"Right now, there are no problems," he said. "If it stays this way, in September we could have situation ... we're a surface water source that depends on rainfall."
Dallas lacks water storage systems water outside of the Mercer Reservoir. Plans are underway, however, for construction a man-made underground aquifer that could hold between 40 and 50 million gallons of water.
Dallas has an emergency water conservation plan that could be implemented in case of a drought. The city has never gone beyond voluntary conservation stage by citizens, Jordan said.
In Monmouth and Independence, which rely exclusively on wells, the lack of rainfall has officials watchful but not overtly worried."
"I would say that right now, we're holding the line," Monmouth Public Works Director Craig Johns said. "But we are still having to monitor all of our sources on a daily basis."
Monmouth receives almost 80 percent of its water from a well located in across the river in Marion County. The water level is down only a minimum level, about 5 percent, Johns said.
The problem for Monmouth, however, is tied directly to the higher-than-normal nitrate concentration in that well.
Monmouth officials blend water from the Marion County source with water from two other wells, to dilute the concentration before it reaches a consumer's tap.
"Those wells have already reached their summer levels," Johns said. "We could normally shut them down, except for the mixing -- we'll run them until we can't any more."
Independence draws its water from eight wells on two different sites. Ken Perkins, the public works supervisor of that city, said that those wells have dropped in water level from 3 percent to 5 percent.
The city does have plans to put two additional wells online during the summer months, which could double its potential production capacity.
Ed Butts, a water engineer and consultant for Monmouth and Independence, said the respective cities could face an emergency if the lack of rainfall cause wells to pump air through the system instead of water or if reservoir yields decreased.
"But often, you don't know about those types of problems until it's too late," he said, noting that water conservation measures could help avert that situation.
In the event Monmouth or Independence wasn't able to meet demand for water, one town could "borrow" from the other under an agreement between the cities.
The agreement has been in place for 20 years but has never been used, Butts said.
Officials from both towns are in the process of sending out mailings to residents about water conservation. Johns said Monmouth could institute weekly lawn irrigation schedules during the summer, if necessary.