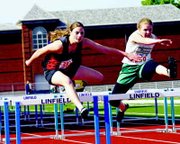 DALLAS -- Dallas, if nothing else, came up with a balanced effort on May 12-13 in the Pac-9 track meet at Linfield College in McMinnville.
Dallas had 10 boys and 10 girls score points in the meet. The team also will send one boy and one girl -- Brian Beck and Macey Blaine -- to this week's state meet.
"We had 10 boys score and 10 girls score, which was an accomplishment," Dragons coach Paul Ward said. "Scoring-wise, we came out a lot better than I expected. Just by going from the marks from the regular season, we weren't supposed to do as well as we did. We still finished on down the ladder, though. It's just hard to compete with Tigard, Tualatin, Canby and even Forest Grove with the girls.
"It was kind of better than we did last year. We had more depth. We didn't score quite as high, but we scored in more events. We had quite a few really good marks."
Beck and Blaine will be returning to the state meet for a second consecutive year.
Beck, who started a bit slowly this season, won the 400 in 50.2 and just missed qualifying in the 200, finishing third in 23.3.
"It was real close," Ward said of the 200 final. "I thought he beat the guy. But the camera showed he just got aces out by (Jordan Brown) from Tigard."
Beck also ran the anchor legs for the two relay teams, both of which finished sixth.
Beck teamed with Ben Johnson, Spencer Barnes and Calvin Barnes for a season's best 46.1 in the 400 relay. Beck ran with Brian Westendorf, Levi Ivy and Mike Ryan for a 3:37.1 in the 1,600 relay, also a season's best.
Ryan also ran both the 800 and 1,500. He ran a 2:04 in the 800 preliminaries and turned in a 2:08 in the finals, finishing ninth. He was sixth in the 1,500 in 4:22.
Josh Swan had a mark of 135-9 for seventh in the discus. Brad Meyers cleared 13-0 for fourth in the pole vault, and Calvin Barnes was seventh in the high jump at 5-10.
Blaine needed a late surge to grab the runner-up spot in the 800.
"She was fourth with about 10 yards to go," Ward said. "She sneaked in there for second place with a little burst at the end. She ran on the outside, in lane two or three, for the whole race. That's good for staying out of trouble, but it also makes you run 10-15 yards farther than anybody else. That's something we've got to deal with."
The biggest disappointment of the day perhaps was Vita Picchi-Dobson failing to qualify for state in the 3,000. Picchi-Dobson, who went to state in cross country earlier this season, finished fourth in 11:03.21.
"She just had a bad day," Ward said. "A girl stumbled in front of her, and she almost got knocked down. She had to stop and step around her. By the time she got around her, she was about 15 yards behind. It was hard to make up that much distance."
Adrienne Hall also just missed qualifying for state in the 400, finishing third in 1:00.66. Hall also ran the anchor leg on the 400 relay, following Brittany Brostrom, Macey Blaine and Maria Thackeray, which finished third in 50.9.
"Adrienne had by far her best time (in the 400), and I think it moved her up to third on the school's all-time list," Ward said. "She just got aced out down the straightaway by about a yard. The same thing happened in the short relay. She kept up with them all the way but couldn't quite catch them at the end."
Freshman Shelby Sayers had a surprisingly strong showing, taking fifth in the 100 hurdles in 17.3 and clearing 4-8 for eighth in the high jump.
"She's been hurt all year," Ward said. "This was basically her third competition of the year. She pulled a hamstring in dance class and then reinjured it right off the bat during track season. She'll be running intermmediates next year, too."
Chelsea Wiens had a 17-second PR in the 3,000, running a 11:26.04 and finishing sixth.
Brittany Rivers was fifth in the triple jump with a mark of 30-1.75, and Rachel Gordon cleared 7-6 for fifth in the pole vault.
"She was sick all week," Ward said of Gordon. "I was surprised she could even jump."
Brostrom, a freshman, was disqualified for a false start in the 100 but ran the opening leg on the 400 relay.
Kendra Fresh teamed with Blaine, Thackeray and Hall for a 4:14.8 and sixth place in the 1,600 relay.
The state meet is May 20-21 at Hayward Field in Eugene.
"Looking at the state meet, if Brian has a good day he has a pretty good chance of placing," Ward said. "Macey's going to have her work cut out for her. She's going to have to have a big PR. But she did it last year at district and fooled everybody. Maybe with an extra week of work, she can sneak up on some of those people.
"Anytime you've gone there before, you've seen it and know what to expect. But that doesn't make it any easier. There's still the competition."