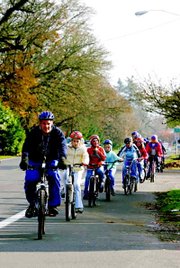 By ERIN ZYSETT
The Itemizer-Observer
DALLAS -- Whitworth Elementary physical education teacher Craig Button and school counselor Theresa Lehman have spent the past month teaching students how to ride their bikes safely on the roads.
The original plan was for the education to culminate in a 40-minute bike ride, but Button wanted to make sure every student could participate. He called Santiam Bicycle in Dallas and asked if he could rent a few extra bikes for students who either didn't have one or couldn't get a bike to school.
Chris Morscheck (a partner at Santiam) told Button that he couldn't rent any bikes, but that there was another option -- he would see if the school could borrow the bikes being stored at Santiam's Salem store by the Portland-based biking education group Bicycle Transportation Alliance (BTA).
"It was really fortuitous that we had those extra bikes, and BTA is so supportive of education and bike advocacy that I knew they would be willing to lend the bikes. It's what they're all about," Morscheck said.
The BTA is a non-profit group that promotes safe bicycle use and works to improve bicycling conditions throughout Oregon. It was started in 1990 and partners with citizens, businesses, community groups and the government to make new communities bike friendly and help improve the safety and convenience of biking in established communities.
Santiam Bicycle just recently opened a store in Dallas, but the company's Salem store has been around for years. Morscheck is one of three owners and said he was excited to get out and help Whitworth promote bicycling as transportation and sport.
Button said that he wanted his students to come away from this experience understanding that a bike is a vehicle, just like a car, and riders have to obey certain rules if they are going to safely share the streets with cars.
Six groups of 25 to 30 students participated in the bike ride. Morscheck, Button, Lehman and Division 3 bicycle racer Omer Kem supervised as the students made their way on and off the roads that wind through the Dallas neighborhood around Whitworth.
Each kid had a helmet (many of them donated by the Dallas Fire Department) and each was directed to obey all traffic laws. That included signaling at every turn and stopping at every stop sign.
Button and Whitworth Principal Steve Martinelli said they hope that the Whitworth bike day will become an annual tradition.
For more information: BTA at www.bta4bikes.org or Santiam Bicycle at www.santiambicycle.com.