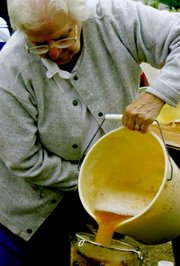 POLK COUNTY -- For 21 years volunteers have been harvesting and pressing cider during the Brunk House Apple festival. The rich brown liquid is poured into plastic jugs on-site, creating fresh tangy nectar to go.
What isn't sold to the public is frozen and used by the Polk Historical Society at various gatherings throughout the year.
Thirteen volunteers arrived early last Saturday morning to set up the press, sort out the apples and brew coffee for the hundreds of fall harvest enthusiasts who would arrive.
The old farmhouse kitchen was warmed up, and every kind of apple dessert imaginable was spread out for hungry travelers.
Visitors arrived to find a bustling crew washing apples and feeding them into the press. The sweet bite of pulp and spilled juice wafted into the parking lot and drew in stragglers.
Liam Smith, Jim Wilson, Monty Montgomery, Ron Dodge, and Betty and David Black cleaned, pressed and packaged a dozen (or more) crates of apples for the intrigued public.
Once the apples were ground, the pulp was manually pressed. The resulting froth streamed down a wooden trough and into the waiting bucket. The juice was carried inside, boiled and returned to the crew. It was then filtered and funneled into sanitized gallon jugs -- or sampled by people eager for their first taste of fall.