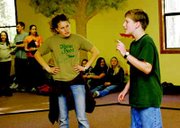 FALLS CITY -- Amanda and Phillip Squibb roared into Falls City last week to conduct an acting workshop. The Squibbs, a married couple, are part of the Missoula Children's Theater traveling show.
Missoula Children's Theater has been bringing the theater arts to underfunded rural communities for nearly 30 years.
Each season a new batch of employees ventures out, driving tiny trucks, in all directions to the far reaches of rural America.
They are like the troupers of old. They stay with families along the way, much like students traveling through Europe.
Each team takes with them all the sets, costumes and scripts for a full musical production.
Week by week they work their way through back roads and into small communities. When they arrive, they cast their show, set up shop and begin rehearsal. For a week, 50 local kids are schooled in projection, line memorization and blocking (where to walk on stage).
The payoff is two live performances at the end of the week for everyone in the community.
This year, the Squibbs brought Robin Hood to Falls City children.
The kids worked hard, and the Squibbs were right there with them, playing key supporting roles and guiding their young co-stars through an hour long musical script.
Missoula Children's Theater is a nonprofit organization based in Missoula, Montana. Each year it sends teams through Canada, the United States and Asia.
For more information: Missoula Children's Theater, www.mctinc.org or 406-728-1911.