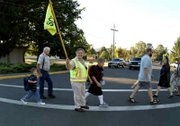 MONMOUTH/INDEPENDENCE -- Central School District Transportation Director John Stephenson says the start of school brings the same problems every year.
Drivers who have had the streets in Monmouth and Independence to themselves for the summer now find themselves surrounded by hundreds of children marching to school.
"You get the younger drivers, the high school kids who are transporting themselves for the first time," he says. "It's scary for me, not them."
With school back in session, district personnel, law enforcement officers and state officials are all trying to relay a common and oft-heard message to motorists and pedestrians alike -- be careful.
"There's a lot more activities going on now and kids coming from and converging on all of our schools," Stephenson said. "Your trip to work that once took 15 minutes might now take 20.
"Everybody needs to be extra cautious."
The district has four crossing guards that will be stationed at busy crosswalks throughout the community, Stevenson said.
In addition, Independence police officers and patrol cars will be monitoring Monmouth and 16th streets and other areas that receive heavy foot traffic.
Independence Police Officer Tino Banuelos said his department will be monitoring bike lanes, parking lanes in schools and crosswalks.
Motorists should be especially aware of the 20-mph speed zone signs positioned around district schools. Drivers caught speeding will receive fines between $123 and $672, depending on how far they exceed the speed limit.
"With all the reader boards that we have and the various pamphlets and public service announcements," Banuelos said, "people should be pretty well informed on how the law works.
"There are no excuses."
Stephenson and Banuelos admit, however, that many drivers may be unaware of what the school speed zone law entails this year.
Oregon lawmakers amended the controversial statute during the last legislative session. But the changes don't take effect until July of 2006.
That means the current law -- a 20-mph limit around schools, 24 hours a day, seven days a week, 365 days a year -- still applies, said Kevin Beckstrom of the Oregon Department of Transportation.
Under the new law, the 20-mph limit would be in effect anytime a school speed zone sign flashes, between 7 a.m. and 5 p.m. on school days, and on crosswalks not adjacent to school grounds.
The current rule has been criticized by drivers frustrated by having to abide by restrictions during late evenings, early mornings and days when schools aren't in session.
Beckstrom said it was logistical issues for municipalities and school districts that convinced legislators to hold off on making the new law effective immediately.
"It would require everybody to change their signs," Beckstrom said. "Making it effective next year gives people a chance to do that."