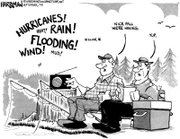 Help Decide the Future of Dallas
A public hearing, involving the annexation of 32 acres of land for single family houses into the City of Dallas, will be held on Monday, Oct. 3 at 7:45 p.m. in the Council Chambers at Dallas City Hall, during the regular City Council meeting.
I'm writing this opinion because I need to share concerns I have regarding this annexation and the direction the City Council is taking this city.
I think these large tracts of single-family houses, while they bring the biggest profits to the developers, are not the best way to use Dallas'
precious supply of land.
At the recent Chamber of Commerce luncheon, Roger Jordan, Dallas city manager, said that people move here because they want to move here. Well, isn't that the reason people who can afford it move anywhere?
Perhaps he should have added, "Middle to upper middle-class people want to live in economically and socially segregated, single-family neighborhoods, and the Dallas City Council wants to accommodate the developers who profit from them, including the developer for this annexation. (James Fowler/the FIFE Group has, in addition to this proposed 32-acre annexation, gotten approval for a 45-lot development on seven acres and 134 lots in Ceres Gleann, and is planning to develop 15 acres near Polk Station. These are ALL single family home developments.)
By many peoples' standards, these are large tracts of "nice" houses, but are they "neighborhoods"? What makes a large tract of houses a neighborhood? How about the ability to walk to the grocery store? How about a neighborhood park that kids and senior citizens can easily walk to, and neighbors can use for congregating and visiting?
How about a variety of housing choices, including apartments (of varying rents), duplexes, houses (including low-cost), and housing designed especially for seniors? How about an identity?
Portland, for example, has many economically-mixed neighborhoods, such as Hollywood and Irvington, with individual identities. These mixed neighborhoods add vitality to the city, and make living in the city accessible to all people.
I think leadership involves not just accommodating developers. I think good leadership involves the courage to make difficult decisions and looking out for all citizens, regardless of income.
I know many people (including me) are discouraged about trying to influence the city council. I called the city manager after the incorrect appeal information was given during the public hearing for the urban growth boundary industrial expansion, and was told that it didn't matter.
He said that people who don't like the city council's decisions need to get 6,000 votes themselves to be on the council.
Please attend this hearing and let the Dallas City Council know your feelings about the annexation, and how you want this city to look for your children and grandchildren.
Jane Henderson
Dallas