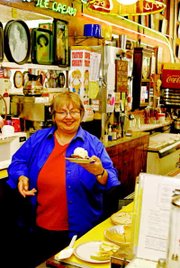 INDEPENDENCE -- Billie K. Herrell rings up a customer's purchase -- antique bowls and a tambourine -- wishes her a nice day, then hurries toward the grill behind the lunch counter to check on the burgers.
Inside Taylor's Fountain and Gifts at the corner of Main and Monmouth streets, a dozen or so people chat as they wait for their orders. Others walk the gifts and crafts aisles, browsing the trinkets for sale.
Herrell expresses amazement: There is still an hour to go before lunch.
"Since the word came out that we were closing, they've been coming in droves," said Herrell, as she hands out a piece of marionberry pie. "I joke that maybe we can yell, "Just kidding!" before they leave."
Sadly, she's not. Herrell and her mother, Marjorie Taylor, sold their historic cafe earlier this summer. Last week, they announced plans to close by Oct. 31.
"I wanted to keep it open forever," Herrell said. "My wish was that my kids would take it over, but they're well into their own careers.
"I'm 64, mom's 83...we just decided that this was the best thing to do."
Those who cherish Independence's historic downtown will be comforted to know Taylor's familiar facade won't fade away.
As a condition of sale, Herrell said the mural on Monmouth Street, and the store's awning and red and green Coca-Cola marquee will remain intact. So will the famous soda fountain inside.
Still, it's painful for some to fathom a city without Taylor's, an institution for locals and an attraction for visitors from across Oregon and the United States for the past 61 years.
Lori Cole of Albany, her husband and friends dropped by the store during a motorcycle ride last week. She called the news "heartbreaking."
"It's very sad," said Cole, who first visited Taylor's just after relocating from California 25 years ago.
"This has been a part of this city," she said. "When I think of Independence, I think of Taylor's."
The storefront that houses Taylor's was erected in 1884, and was originally a dry goods shop. When the property changed hands in 1908, the new owners turned it into a pharmacy and installed the soda fountain.
Herrell's father, Dee Taylor, purchased the building in 1945, to complement his grocery and butcher store that at the time, sat on the other side of Main Street.
It quickly became a mainstay, a a regular lunchtime haunt for farmers and businessmen and a favorite date spot for young lovers.
And it was certainly more than a run-of-the-mill drug store, Herrell said. Customers could get jewelry repaired, buy a guitar pick, pick up a hunting license and bus ticket -- all in one visit to Taylor's.
"Dee really loved this place," Marjorie Taylor said, pointing out her husband's favorite stool at the far end of the soda fountain. "He would open the doors at 6 a.m. and have a crowd of fishermen and retirees."
Herrell started working behind the soda fountain in 1954, at age 12. During the summers, she and the other store employees donned white nurses uniforms.
"Dad thought we looked nicer that way," she said.
Herrell said her most memorable day on the job was April 19, 1959, the day a wagon train rolled down Main Street as part of and Oregon Trail re-enactment that drew thousands to Independence.
"It was the busiest we've ever been," she said. "I worked for the three days they were here and never even got to see the covered wagons."
Dee Taylor died in 1984. The shop's longtime pharmacist quit a year later. Herrell, who at the time was a social worker in Portland, quit her job and returned to Independence during the mid-1980s. She and Marjorie Taylor have operated the store as a gift shop and caf' ever since.
Taylor's has gained fame for its two soda fountains -- each 100 years old and still capable of churning out phosphates and ice cream floats -- as well as a massive collection of Coca-Cola memorabilia that spans to the turn of the 20th century.
But keeping Taylor's open has been a struggle, Herrell said. Retail chains with pharmacies and fast food outlets have made cafes like hers a dying breed.
"Business has gone down in the last few years," she said. "We attibute that to people's faster lifestyles -- they shop in the places they work."
Another challenge has been maintaining Taylor's historic appearance. It has cost tens of thousands of dollars to repair the aging building and find replacement parts for antique appliances, Herrell said.
Herrell said she and her mother had been pondering the store's future when somebody made an offer for the building earlier this year. A relative then decided to match that price.
The store won't change hands until next January. Family members are still considering what kind of business it may become.
"We weren't going to let just anybody come in, we want to keep it in the family," Herrell said, noting her children and grandchildren have all worked at the store at one time or another.
"We know that way it won't turn into a check-cashing place or something."
Lia Chisholm was a regular at Taylor's while growing up in Independence. She recently moved back to the city after 30 years and was shocked to hear the cafe as she remembers it won't be open much longer.
"I understand why they're doing it," she said. "I'm just glad I returned before it closed."
On this day, Marjorie Taylor, who has been associated with the store the longest, seems the most at ease with the situation.
"It's kind of sad I guess," she said. "But there's a time for everything and this seems to be the right time."