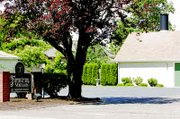 INDEPENDENCE -- Five residents have filed a case with the Oregon Land Use Board of Appeals (LUBA) in opposition to a decision by the city that allowed the construction and operation of a crematorium in their neighborhood.
The petitioners claim that Independence violated its own zoning laws when it OK'd a request by the owners of Farnstrom Mortuary earlier this year to install a crematory in their funeral home business at 410 Monmouth Street.
The community members, all of whom live near the business, also argued that the city failed to properly notify them of the operation and that it would have an adverse on their properties.
Jay Hallowell lives next to the mortuary. He said he wasn't aware that the business was adding a crematory until he saw the machine and smokestack being installed late July.
"This isn't a case where we have a problem with a crematorium in Independence," he said. "It's just the fact that it's sited in a residential area where it's the only business for four or five blocks.
"The city told them to go ahead without thinking the process through."
Independence officials have until Aug. 28 to provide a record of the process used to green light the crematorium, followed by arguments from both sides and a yet-to-be scheduled hearing.
Wally Lien, a Salem attorney representing the petitioners, said it could take five or six months to settle the issue.
Ben Farnstrom owns the mortuary with his brother, Alex, and they both operate the crematory under the name Goldcrest Crematory.
It has been used six times since July, but has been dormant since the neighbors first aired concerns, Ben Farnstrom said.
"We aren't using it now until we get this finalized," he said. "That's out of respect for our neighbors," he said.
Mortuaries and funeral homes are typically only allowed in commercial zones under current city codes. A crematory may be erected as a conditional use in a commercial retail zone.
The property that Farnstrom Mortuary sits on has been used as a funeral home since the late 1800s, Ben Farnstrom said. Though it exists in a residential zone, it is able to operate under a grandfather clause.
In their appeal, the petitioners argue that the expansion of a business under a non-conforming use and allowing a crematory in a residential zone are violations of city laws.
The city, however, allowed the Farnstroms to add 1,800 square-feet to their mortuary in 1999, with space allotted for a crematory later on, Ben Farnstrom said.
The Farnstroms also received an air contaminant discharge permit from the Oregon Department of Environmental Quality (DEQ) on July 14. City officials approved a land-use compatibility statement needed for the business to earn that permit, said John Taylor, a DEQ spokesman.
Unlike some other land-use permits issued by the agency, air discharge permits don't require public hearings, Taylor said.
Hallowell said he doesn't have a problem with the funeral home. A crematorium, however, is out of place in a residential neighborhood like his.
"This is like an industrial incinerator," he said. "It puts out a lot of smoke and noise.
"When it fires up, it sounds like a locomotive."
James and Stacy Aanes live in a house behind the mortuary. In a letter to the city, they stated they could see and smell smoke from the crematory from their dining room and worried about a negative effect on their property values.
David Roth, an attorney representing the Farnstroms, said Independence has a choice of defending its decision, and that his clients might intervene if city officials take a passive role.
Ben Farnstrom said he would abide by the final outcome of the appeal process. If necessary, he may relocate the crematory to the Farnstrom's other mortuary in Portland.
"We're here to offer a service, and by us being able to do that in-house, we're better able to serve the community," he said. "At the same time, a big concern is to not upset our neighbors; that's not what we're about."