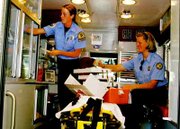 DALLAS -- The city's ambulance service is selling a supplemental insurance called FireMed that covers medically necessary ambulance trips.
Actually, the service has been available for years. But now it is being publicized in an effort to increase membership, decrease losses and help the public save money.
The goals are straightforward: FireMed helps the ambulance service recoup lost revenue, and it covers the out-of-pocket expense most insured patients have after a medical transport.
To buy FireMed, community members within the city limits pay $50 a year, while people living outside the city limits pay $60 a year. It is honored in most of Oregon, and covers everyone in the household.
Dallas Emergency Medical Services Coordinator Todd Brumfield said one ambulance trip typically costs an insured person $150 to $200 after insurance pays its share, and if a person is covered only by Medicare insurance the remaining balance could be higher.
If a family uses an ambulance once during the year, FireMed would pay for itself threefold.
"Whatever your insurance company doesn't pay, FireMed just basically writes off," Brumfield said.
Most of the patients Brumfield and his colleagues transport are Medicare patients. Medicare covers only a minor (and ever decreasing) percentage of the medical transport fee. It also places a cap on how much the ambulance service can bill the patient directly.
Because of this, and the increasing number of uninsured transports, the ambulance service loses money every year.
An uninsured transport could cost from $800 to $2,000. Most of that bill will go delinquent, because the average person doesn't have the money to pay it.
Other cities facing this problem have contracted out ambulance services to private providers. However, the Dallas city council has said it would like to keep the EMS service under the city's umbrella as long as possible.
FireMed fees go to the ambulance service, not an insurance company, so the money can be used to cover basic operating costs and equipment updates.
Three years ago, Polk Fire District 1 was considering canceling its FireMed program because of dropping enrollment. Dallas wants to avoid that choice through aggressive publicizing.
The city has bought ads and will place banners on the ambulance service building. Brumfield said he hopes some people will purchase FireMed even if they don't foresee a need in their immediate future.
"Hopefully younger, healthier people will consider purchasing this just to support the ambulance service," Brumfield said.
To request an application, call 831-3508. Those who want to renew their coverage, Brumfield said, will have or will shortly receive renewal notices.