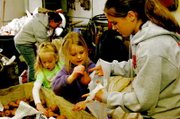 PERRYDALE - Early on Friday morning, the first day of Christmas break, about 20 Perrydale students filled a 14-foot trailer to capacity with food for needy families in Coos and Lincoln counties.
Perrydale FFA broke its own charity record this year by raising 100,000 pounds of food for hungry families.
"We probably won't try to top 100,000," FFA adviser Kurt Hutchinson said.
"Last year we made it our goal to exceeded 70,000 and we got to 72,000. But I don't think we can go higher than 100,000. We just don't have the room - 100,000 pounds is a lot of food," Hutchinson said.
The Perrydale Food for All program started 10 years ago with a class challenge between freshman and sophomores. Hutchinson happened to be talking to a Perrydale parent who worked for Kettle Foods.
Hutchinson and his students really wanted to win, so the parent asked if Kettle would donate any leftover potatoes.
The Salem business did, and a huge food drive began.
With each year the amount gathered has increased, so that by November the shop at Perrydale school is bursting with turnips, beets, parsnips, potatoes, onions, apples and various canned goods. All of it sisprovided by local growers, generous shoppers and Perrydale students.
"Well, it's usually the stuff that doesn't sell very good, but it's top quality and we feel if they can use it then they should," Ed Montecucco, of Montecucco Farms in Canby, said.
Montecucco Farms is one of Food For All's biggest donors. They and half a dozen other farms provide the food drive with its fresh foods.
In conjunction with the food drove, Perrydale students also fill a garage sized closet with used clothing to be donated to various charities in the area.
"Every piece donated gets used in some way. The clothes that are no longer wearable go to a place that turns them into rags. If it's not given to someone to wear, it gets recycled," Hutchinson said.
Ariel Boline, the FFA vice president at Perrydale said that the entire school looks forward to the food drive.
"It really gives us an idea of what things are actually worth and that there are a lot of people who don't have what we have," Boline said.
Once the food arrives in the shop, after a week long marathon collection spree, it is sorted by Perrydale students and community members. Once the potatoes and various other sundries are bagged and stacked onto palettes the students load them onto a huge truck provided by Land O Lakes.
"It's a real effort by the community. They really get behind the kids," Hutchinson said.
The students interviewed said that the food drive is just an extension of Perrydale's atmosphere.
"More than half the kids who come here are from other communities, like me. People want to come to this school because they feel welcome and a part of something," sophomore Levi Comerford said.
The biggest beneficiary of Perrydale's efforts is one of the poorest communities in the State. At the end of a weeklong packing spree the FFA students load up a huge semi and a few students pile into the cab.
They then make a round trip to Coos Bay. A few years ago, the FFA leaders found out that the Knights of Columbus in Coos Bay was spending $20,000 every year on food for their annual food baskets.
"They were raising money, then going to the store and buying food for these baskets, so we contacted them and asked if they would like us to provide the food," Hutchinson said.
The Knights agreed.
"They brought about 40 to 50 thousand pounds. They did an awesome job with it," said Mike Main, grand knight of the Coos Bay organization.
"They collected the food and brought it to us. We spend close to $30,000 on food in addition to what Perrydale brings us. This year we have 1,038 people who are registered to get these boxes and they are way beyond needy. This is one of the neediest communities in the state," he said.
The trip to Coos Bay is a coveted job at Perrydale. Kids even return after graduation to help with the transport.
"Most of us are so busy with other things that we can't make the Coos Bay trip, but that's OK because other kids who may not get the chance to be as involved get to be there and see the people's faces when we deliver the food," Perrydale sophomore Briana Hanes said.