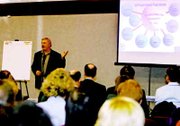 SALEM -- They dwell almost exclusively in shelters or church missions. Many suffer from mental or emotional disorders which can prevent them from ever earning a living wage.
They exit prison or social service systems with no place to go and few alternatives but to live on the streets.
There are an estimated 3 million homeless men, women and children in the United States, according to the National Alliance to End Homelessness.
"There's the thought that through circumstances and situations, these people are sleeping on streets or under bridges," said Teresa Cox of the Mid-Willamette Valley Community Action Agency.
"But in actuality, there are families working two or three jobs just to find housing. Many don't know where they will lay their heads at night."
Last week, about 150 state and local government representatives, along with members of community and non-profit organizations, gathered at the Salvation Army Center in Salem to discuss regional homelessness.
The primary goal was to faciliate coordination for a 10-year plan that would end homelessness in the area, said Carla Cary of the Mid-Valley Housing and Services Collaborative.
Prevention of additonal homelessness, finding permanent instead of transitional housing for the chronically homeless, and creating more affordable dwellings all must be addressed in the plan, Cary said.
"This meeting is a kickoff, to see who is interested and can come to the table and help," Cary said. "We need local backing and stakeholders from county and city governments.
"We need to look at how we can pool our available resources to end homelessness," she also said.
The collaborative conducted street surveys and shelter and mission counts in Marion and Polk counties to gather statistics on the number of homeless.
About 1,500 people in this area are homeless on any given night, Cary said.
The lack of transitional and halfway homes in Polk County areas -- outside of West Salem -- made it difficult to gather numbers from the area.
"We did go to social service offices and Sable House to help with counts," she said.
The collaborative also found that a number of poor families in Marion and Polk counties "double- or triple-up" in single-dwelling units to afford rent.
Marion County Sheriff Raul Ramirez said addressing the issue is one component in battling other major societal ills, such as methamphetamine addiction.
More than 25 percent of the 20,000 individuals processed in that county's jail system leave with no place to go, Ramirez said.
"When they try to stand up on their own after going through their responsibilities, the first thing they encounter is being prohibited from applying from housing," he said.
Bruce Kerr, who respresents a private housing corporation in Salem, said drug and alcohol rehabilitation education for the incarcerated would make it easier to find a place to live upon their release.
"There's no incentive for a landlord to put a tenant in a unit ... if he goes into recidivism," he said. The person "has to be clean and sober."
The economic toll of homelessness on communities shouldn't be ignored, said Paul Carlson of the U.S. Interagency Council on Homelessness.
He cited a study performed in San Diego that estimated almost $100,000 in hospital, jail and social service costs to the city to support one chronically homeless person. Seattle spends almost $54,000 per homeless individual, he said.
"The cost will get worse if we sit by and continue to do nothing," he said.
Hundreds of muncipalities and county governments across the United States have already established decade-long comprehensive plans as part of a directive by the U.S. Interagency Council on Homelessness.
Portland and Multnomah County officials and community members, for example, implemented a plan more than two years ago based on the philosophy that getting people into permenant homes helps them assimilate to a normal life.
More than 650 have found homes, with a retention rate of 70 percent after six months, said Heather Lyons of the Bureau of Housing and Community Development.
Waiting lists for homeless shelters in Portland have fallen by almost 34 percent, she said.
For more information on or to assist in the creation of a homeless prevention plan in Marion and Polk counties: Carla Cary at 503-585-6232.