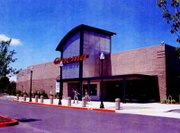 INDEPENDENCE -- Come this fall, community members may not have to leave the city limits in order to spend an evening at the movies.
A Vancouver, Wash., real estate developer has finalized plans with town leaders to construct an 18,000-square foot theater on the site of the old Southern Pacific hop warehouse on Second Street in Independence.
Representatives of Prestige Development plan to break ground on the project in March and hope to have the complex finished as early as September.
"We're excited," said Tammie Ferguson, Prestige vice president. "We typically serve smaller communities ... and Independence fits our demographic.
"Most larger theater chains only open in big urban markets and wouldn't come to a small community," she added.
Prestige owns and operates such multi-screen theaters in Sandy (population 6,800) and Battleground, Wash. (14,900).
Ferguson said the proposed Independence complex will look identical to those businesses, with eight auditoriums equipped with Dolby Digital Surround sound and high-back stadium seating.
Ferguson said theater would create about 30 jobs and will be open year-round.
"This is going to be huge," said City Manager Greg Ellis. "I don't think I can overstate the impact it will have on the downtown area."
City officials have been attempting to land a movie theater in the city for the past several years, Ellis said. Last spring Ellis came into contact with Prestige owner Elie Kassab and his independently-owned theater chain.
Ellis said the other communities the company serves are similar in size to the Monmouth-Independence area, and also sit in the shadow of larger metropolitan hubs Sandy is east of Gresham, and Battle Ground is just north of Vancouver.
Independence officials approached Prestige and began putting together a development deal. In order to facilitate the size of theater and necessary parking, town leaders purchased four homes on Third Street just west of the old warehouse, The cost was about $550,000.
Ellis said the city will lease its 1.67-acre property to Prestige "at a low-lease rate," improve the surrounding sidewalks and pay the theater's system development charges using monies from the Independence Urban Renewal Fund.
SDCs are one-time fees used to pay for public improvements spurred by growth.
Ellis said the concessions made to the company, which hadn't initially been looking to expand into Independence, are going to be well worth it.
"We've taken a non-performing asset and turned into something that will benefit the community," he said. "During the first year, there will be at least $50,000 in property taxes that will come back to the URD ... and it will increase by at least 3 percent every year after."
The theater will seat about 830 people, Ferguson said, with individual auditoriums ranging in size from 45 to 178 seats.
Prestige will construct a 135-space parking lot to accommodate customers. Movie start and end dates will be staggered so there is never a crush for parking, Ferguson said.
"The theaters usually operate on at about 20 percent occupancy at any given time," she said. "You'll never have 800 people in the theater at once."
Another benefit for Independence is that the lot will be available as general parking between 8 a.m. and 5 p.m. on weekdays.
Ferguson said Prestige has tried in its other markets to become a "corporate community member" by offering other activities, such as video game parties on the big screens and homework programs for local elementary schools.
The theater also will be available for rental to local, church and school organizations for meetings.
"People here want entertainment close to home," she said. "We think this could keep entertainment dollars in town and even draw people away from Salem."
Mayor John McArdle, in announcing the project to the Chamber of Commerce, said he expects movie-goers to come from Dallas, West Salem and South Salem as well as the Monmouth-Independence area. All that will be provide spinoff business for Independence, he said.
--
In related news, the City of Independence has reached an agreement with a contractor to "deconstruct" the vacant hop warehouse on Second Street.
Ellis said the city will pay $40,000 to $50,000 for the job and will get to keep as much as 1,000 board feet off the 75-year-old structure's beams and planks, to be used for fund raising."