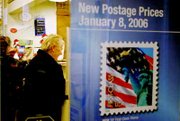 POLK COUNTY -- Postage rates went up two cents on Jan. 8. It now costs 39 cents to send a standard letter (weighing up to an ounce), and 24 cents for a postcard.
A two-ounce letter now cost 63 cents to mail. Priority mail for up to 16 ounces now costs $4.05, up from $3.85.
After some initial shortages of the two-cent stamps people need to use up their supplies of 37-cent stamps, the post offices have received large shipments and are equipped to help.
"We have gobs" of the two-centers, Independence Postmaster Sue Burge said. "We have about 20,000. We just got a shipment in."
Burge has worked for the post office for 32 years. In that time she has seen postage rates rise a total of 31 cents. Some of those rate increases have gone smoother than others, she says. This one was a bit rough because of the stamp shortages, and she isn't exactly sure why they ran out.
Richard Priszner, the officer in charge at the Falls City Post office, said he hasn't run out of stamps but has placed an order for more just in case.
"We have a few. I have enough for a little while, but we have to wait for the Portland office to get more in. I don't know how long that will take."
"I have no idea (why there are a stamp shortages)," he said. "I've been through quite a few rate changes, and I really don't know. I think a lot of it is because we have to wait for Congress to approve the rate change, and then it has to go through the postal commission and that can take awhile."
Once the rate change has been thoroughly debated by bureaucrats, and the amount of the increase chosen, the postal agencies aren't given sufficient notice to prepare. They may need to order huge supplies of a previously little-used stamp (like the two-center) to implement the change.
If every post office in the country places a larger stamp order than usual, a shortage is inevitable.
That. at least, is one theory.
"I'm not sure why we ran short," Burge said. "People may have been caught off guard and then panicked a little bit. So some people bought too many two-cent stamps. People would come in and say 'give me $5 worth' -- do you know how many two-cent stamps you get for $5?
"I've already had people bringing in leftover stamps to exchange them -- which we can't do."
Rickreall Postmaster Bill Gallagher said it's just hard to gauge how many stamps people are going to want when the rate increases. He said that his customers didn't seem to be taken by surprise by increase, but many had the date wrong.
"Some were surprised," Gallagher said, "but the majority of people were prepared. Everything seemed to go smoothly."
Most post offices, including Dallas, received their two-cent stamp orders last week. They have also begun getting newly designed 39-cent stamps. To bridge the gap, they sold customers generic flag-themed stamps that are good for 39-cent postage even though they don't have an amount printed on them.