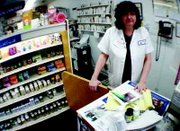 POLK COUNTY -- On Jan. 13 Oregon Gov. Ted Kulongoski issued emergency prescription drug assistance for Medicare patients who were having trouble accessing their new drug benefits.
The new Medicare drug system is creating confusion and frustration on all fronts:
* Pharmacists across the country are spending hours on the telephone, waiting on hold, while trying to bill the new plan.
* Seniors in states with no assistance are walking away from pharmacies empty-handed.
* Locally, pharmacists are struggling to fill prescriptions and at the same time function as social workers as they attempt to help seniors navigate the labyrinth of 200-plus plans.
"It's frustrating -- and it continues," said Nancy Gray, manager of the Dallas Pill Box pharmacy. "It is slowing getting better, but I think that's because we know what to expect.
"I will say that the local companies have been very good, but at the national level ... it's just impossible to get through at times. You could be on hold for a half an hour and then be hung up on -- if you can get through at all."
Gray said she felt the problem is the number of new patients needing to be manually added to the national data base.
"It's all complicated by the fact that people who didn't have coverage before this, and waited until January to enroll, oftentimes don't have anything. No member number, no card, nothing," she added.
If you are going to access the new Medicare prescription drug coverage you must have your member number, your "BIN" number, and if possible the name of your plan. Even if you don't have your card yet, Gray said, at least having this information will make things easier and faster.
The Medicine Shoppe owner Sandra Kasprzyk said there is another complication which is affecting low-income Oregonians. When the "Medicare D" plan was approved, the Oregon Department of Human Services (DHS) sent letters to all low-income residents who qualified, telling them that the state would enroll them. But some of those people weren't enrolled.
"They only signed up certain classes of people," Kasprzyk said.
"And the deadline to get extra assistance is March 12. We need to get out there and beat the bushes and get these people sign up."
Kasprzyk has set up a computer in her pharmacy devoted just to getting people registered for the plan. The public libraries also have computers and information available.
It's important to go through the literature and pick a plan that will work for you. There are two main types of Medicare programs.
One is just for prescription drugs (Medicare D). The other is for drugs, doctors visits and hospital stays.
The first program won't effect your doctor's visits -- It is soley for drugs. However, it is very important to check with your doctor before you sign up for the larger plan, because many doctors are restricting which Medicare plans they will accept.
Before you sign up for anything, consult your regular doctor. If you don't have a doctor, find one before you sign up. Otherwise you may not be able to find a physician who will take your coverage.
Once you have decided which program you'll be using, it's time to pick a plan. That's where things get complicated, because within the two main plans are many different programs. It's important to know that any plan you pick is NOT set in stone, however, and can be changed at a later date.
"I am knee-deep in this," Kasprzyk said. "There are a lot of people who are going to fall through brand-new cracks ... and they are afraid of it. They are afraid of the new plan, because they have to sign something that says 'I swear blah, blah, blah,' and they're afraid they are going to inadvertently perjure themselves.
"I try to explain to them that they aren't going to get arrested. No one is going to throw granny in jail -- but they do have to fill this application out."
Some people are convinced that the new Medicare plan needs work, that it's not complete and will hurt seniors.
Lorraine Anderson is a local senior citizen who says that at this point in her life she is lucky enough to be healthy. She doesn't need a prescription drug plan yet.
Anderson is encouraging seniors to boycott the plan and force Congress to readdress it.
The main issue, Anderson says, is the deductible "doughnut" wherein the plan doesn't pay anything for the first $250 spent. Then everything is covered until the person reaches $2,250 in costs. After that, the patient has a co-pay of about 25 percent.
Once a person's total out-of-pocket drug costs for the year reaches $3,600, the plan starts to charge them $2 per generic drug and $5 per non-preferred drug.
This is just for the basic Medicare D plan. There are two others, the "Gold Plan" and the "Choice Plan," both with different price breakdowns.
On top of this, the Basic Medicare D plan will cost a patient $27.74 a month. The gold plan is $39.84 a month and the choice plan is $35.79 a month.
Those monthly payments will increase by 1 percent each month past the registration date until the person signs up. That punative feature angers Anderson.
"I just think the whole thing is a big ripoff," she said. "Like Senator John McCain says: It's a terrible plan, and they should throw it out. I've gone to three (Medicare information) meetings ... and the more I found out about it, the more I just think it's a bad deal.
"That one percent increase each month you delay is an unending penalty that I think is designed pressure people who don't need it to join and support a program that won't work."
Sandra Kasprzyk said that it's important at this point that people just sign up for something. She agrees that the plan has a lot of holes and that low-income folks are going to have some problems. But, she adds, the alternative is no coverage.
"They can apply for the extra help," Kasprzyk said.
"When they do they get a letter that says they have applied for the extra help, they need to save that. In a month they will get another letter ... they need to save that, too. When they come into the pharmacy, they need to bring that with them to prove they are signed up. We'll go from there."
Says Anderson: "It just doesn't make much sense. That it should cost that much and do so little ... and let's face it, Congress doesn't give a hoot because they aren't covered by it. The lack of information and the lack of preparation is pathetic."
For more information: The Itemizer-Observer has compiled a group of links to aid in signing up for Medicare or learning more about prescription drug aid. Check our web site at www.itemizerobserver.com. Or call for live help at: 1-800-MEDICARE (1-800-633-4227). TTY: 1-877-486-2048.
--
Medicare Drug
Plan Timeline
Jan. 1, 2006 -- Coverage begins for people who have joined by Dec. 31, 2005.
May 12, 2006 -- Deadline for additional assistance for low-income people.
May 15, 2006 -- Last day to join a plan offering coverage for 2006.
Nov. 15 - Dec. 31, 2006 -- Next opportunity to enroll.
--
Enrollment help
To enroll for additional assistance from Medicare, have the plan name you want ready, if possible.
If you are selecting a plan that covers doctor, hospital, and drug costs. Your doctor can help you select the proper plan. He or she may only accept certain plans, so double check before enrolling.
If you are just selecting the drug benefits, your doctor care won't be effected, but your doctor can still advise you.
If you are a low-income individual and the State of Oregon sent you a letter stating they would enroll you, this may not have happened.
Make sure you have been enrolled by calling: Oregon Department of Human Services 1-503-945-5772.