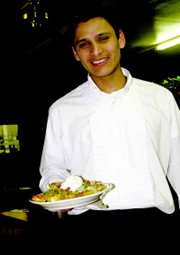 INDEPENDENCE -- If you want to see the American Dream in action, try visiting the San Antonio Family Mexican Restaurant in Independence.
"It's just like everything (in life)," owner Moises Ceja says of the desire to run his own business. "You set goals for yourself. There's something you want to do, you work hard, save as much money as you can, and then there's the opportunity.
"When you feel like you're ready, that's when you do it."
Ceja came to this country from Mexico in 1995. Brothers Antonio and Antolino already were here, and the three Cejas worked at a restaurant in McMinnville.
Antolino learned of a business opportunity in Independence through a restaurant equipment dealer in Salem. The building, located at 1311 Monmouth St., previously was the site of Food-N-Fixins and later Lucky's Chuckwagon restaurants.
"I thought it was a good location," Moises said. "It's on a main road. People can see it, and since it was an existing business, we didn't have to do a lot of work to update it."
What he did in the dining room is simple but pleasant Mexican decor that has a comfortable feel.
Moises runs the front part of the restaurant, and Antolino does the cooking. Moises may not be at the restaurant 24 hours a day, seven days per week, but it seems that way.
"This is my home," he says. "It doesn't really bother me, the time I spend here. I enjoy my time here.
"Sometimes I could go home a little earlier, but I feel like I've got to be here. I have taken a couple days off ... or part of the day off."
Moises always greets his guests with a kind word and a warm smile. He seems to be a natural host, gliding easily from table to table and popping up at just the right moment. But this wasn't always the case.
"I really love it now," Moises said. "But the restaurant business was one of the things I didn't like when I first got here (in the United States). When I first started, I thought, 'This is not for me.' I was a dishwasher, a cook, a busboy, a waiter. I didn't like it.
"It was really hard for me. At first, I would hardly talk. In English, it was even worse. It's hard to speak a language you don't know very well. You're scared you're going to mess up. But you approach different kinds of people, you talk to people and you learn from people.
"Now, I think it's a nice job dealing with people. It's hard sometimes, but that's the way business is."
San Antonio has a wide and varied menu. It starts with all the traditional appetizers -- nachos, quesadillas and flautas. There are separate menu sections for salads, tostadas and enchiladas and combination, beef, chicken and pork plates.
There also is a list of seafood specialties that includes Camarones Apretalados -- shrimp wrapped with bacon and deep-fried.
And for those who just aren't in the mood for Mexican food, there's a selection of American foods such as grilled chicken breast sandwich and T-bone steak.
San Antonio offers carry-out and dine-in service. Breakfast is served from 7 a.m.-11 a.m. Lunch and dinner hours are 11 a.m.-9 p.m. Sunday-Thursday and 11 a.m.-10 p.m. Friday andSaturday. The phone number is 503-838-1304.
"We're doing pretty good," Moises said. "We started on the right foot. Then it slowed down a little. I thought December would be one of the slowest months, but it was one of the better months. Hopefully, it will pick up a little more."