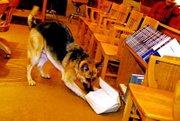 Friesen
Alton and Delores Friesen of Keizer celebrated their 50th wedding anniversary with a video program themed "Where It All Began" and cake reception hosted by their children June 24 at Salt Creek Baptist Church in Dallas.
More than 100 family members and friends, including original wedding attendants, were present to share memories and give their good wishes at the same location where the actual wedding reception was held 50 years before.
Alton Wayne Friesen and Delores Ann Klassen was married on June 23, 1956 at Salt Creek Baptist Church.
The Rev. Otto Nallinger officiated the ceremony.
Alton and Delores spent most of their lives residing in Dallas, and then as a couple, raising their family. Having lived in Dallas until 1994, the couple moved to West Salem, and in the past year, to Keizer.
Alton owned Vacu-Maid NW from 1969 to 1999, retiring from operations in 1998. He works part-time in RV Sales in Salem.
Delores is a lifelong homemaker and "Grandma-at-large" for her family.
Having been members of Salt Creek Baptist Church for more than 50 years, the couple has maintained their church family ties throughout.
Their family includes Jeff and Sherry Friesen of Mt. Angel, Joe and Diane Friesen of Keizer, Jeremy Friesen of Phoenix, Ariz., five grandchildren and six great-grandchildren.
More like this story