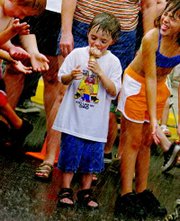 Crowd enjoys giant parade
DALLAS -- Nearly a thousand people paraded thorough the muggy heat for the Dallas Summerfest "Homecoming" Parade on Saturday.
The thousands of spectators saw 151 entries decked out in ribbons and banners, all celebrating summer and their hometown.
"It was reasonably comfortable, with few complaints about the heat. Unfortunately, the prospect of high heat kept away a few entrants, especially animal groups, parade organizer Brian Dalton said. "However, the crowd, which arrived late, was large and very enthusiastic."
Pre-parade events kept early arrivals entertained with chalk drawing, juggling, balloons, bubbles and clowns. Twelve hundred confetti eggs were passed out, and a roving face painter decorated children while pirates teased their parents.
Hollie Arklander, the 2005 Dallas High School prom queen, was grand marshal.
The Wells Fargo Stagecoach won Best of Show, adult division, and France School of Dance took Best of Show, junior division.
Bob Laurie won first place in the pre-1950 car division with his 1941 Lincoln Continental convertible. Aden A. Schlabach had the best antique tractor.
Delbert Hunter Arboretum & Botanical Garden won best float pulled by a trailer or ATV, and Vacation Bible School won best float pulled by a tractor (even though dropping out midway when it ran out of gas).
Dallas Retirement Village won best marching group with a wheelchair drill team, and Gene Hall tied with the Dallas High pep band for the best musical group.
David D. Breeden won for best military entry with a 1945 2 1/2-ton Army CCKW ("deuce and a half") truck, while Casino Gold Miniatures tied Country Homecoming for best horse group.
Dawntae Bault won best individual horse for dressing two of his ponies up as the homecoming king and queen.
The Oregon Military Museum brought ten antique vehicles.
It took an hour and 40 minutes for the participants, who were stretched out over two miles, to travel the parade route.
It takes about 25 volunteers all year to plan the Summerfest Parade, which is the second-biggest parade in Oregon just after the Portland Rose Parade.
--
Athletes fly with a message
DALLAS -- A big crowd braved 100-degree heat to watch a skate boarding and BMX biking exposition during the Summerfest festivities on Saturday.
Though it rained during the parade, the sun was out in full force by 2:00 p.m. and it baked the asphalt on the Dallas City Park basketball courts.
Boarders for Christ, a group of 14 extreme athletes from throughout the country, flew off ramps and defied gravity for the crowd's entertainment.
They were there on an invitation from the Network of Youth Pastors of Dallas -- about a dozen local churches raised more than $8,000 to bring the sports event and Christian rally to the community.
The organizer, Serena Lairson, said she and her husband had wanted to see something like this in Dallas for years.
"We wanted to reach out to the youth of Dallas," Lairson said.
"There are so many skateboarders in this town, as well as BMXers, and you really need to reach kids through something that they feel is important. This seemed perfect."
Boarders for Christ was established 10 years ago by Chris Lauri in Coeur d'Alene, Idaho. The group is now based in San Diego.
Lauri said he had a passion for extreme sports at a young age, and when he joined the ministry it occurred to him that a popular sport, more associated with rebels and fringe society, might be a good vehicle for his message.
"For me this is what I was passionate about. When I gave my life to Jesus Christ, I wanted to do something with this to spread the word," Lauri said.
Boarders For Christ is just starting its 2006 tour. The next stop is in Washington state. For more information: www.boardersforchrist.com.
--
Summerfest goes to the movies
DALLAS -- Summerfest celebrants looking to get out of the heat for awhile visited the Fox Theater for the first-ever Summerfest Movie Festival.
The movies being shown were all made by Oregonians and are part of the touring "Best of the Mid-Valley Video Festival," which will be in Eugene and Corvallis next.
"Basically, it's all local filmmakers -- there is probably a filmmaker from every town we are showing it in," festival organizer Ross Swartzendruber said.
Former news reporter-turned-documentarian Eric Mason has two films in the festival, "The Red Toothbrush" and "The Question".
Mason said both films are about the assumptions we make and how those assumptions lead to interesting consequences.
"The Red Toothbrush is about how even our worst fears may be unfounded ... it was edited by a high school student, Brandon Miletta, who is a very very bright young man," Mason said.
Mason's "The Question" was shot on rural roads around Woodburn and used Oregon actors.
He is currently working on a variety of projects, including a documentary about Handel's "Messiah."
"Many of my movies are topical and I weave narrative around real events ... being a journalist for more than 20 years, I of course have a ton of characters already floating around in my head," Mason said.
The Mid-Valley Video Festival is in its third season. It will accept its next round of entries between Sept. 1 and Jan. 27. The videos will be premiered in February at Northern Lights Pub and Theater in South Salem.
"The response I'm getting from theater owners is very enthusiastic; they'd love to have it come back next year," Swartzendruber said.
Mason plans to keep entering movies in the festival. He said he has more ideas than he knows what to do with and just needs to get them down on paper. In the meantime he's shooting promotional films and documentaries for nonprofit organizations to use in fund raising.
For more information on the Mid-Valley Video Festival: www.mvvfest.org.
--
Marion 1 is vehicle extrication champ
DALLAS -- Marion County Fire District 1 placed first in the 2006 Dallas Summerfest Oregon vehicle extrication competition last weekend.
Lakewood Fire District from Washington took second place, and Whidbey Island Fire & Rescue, also from Washington, finished third.
The event is in its third year at the Dallas Fire Station in conjunction with the International Association of Fire Chiefs Transportation Emergency Response Committee.
By winning, the members of Marion County Fire District 1 are eligible to attend the 2007 national competition in Orlando, Fla.
The extrication judges came from many states, including Florida, Tennessee, and Oregon. Teams were evaluated in a number of categories, including safety, rescue tool proficiency, command, communications, medical evaluation, and team performance.
Besides the winners, other teams participating this year included Sedro Woolley Fire & Rescue of Washington, Boring Fire District, and the Dallas Fire Department.
This year's event was sponsored by Dallas businesses National Hose Testing Specialists and Mitch Ratzlaff State Farm Agency, along with the Dallas Fire Department.