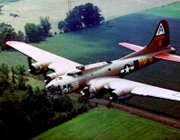 DALLAS -- When the Collings Foundation pilots fly their "Wings of Freedom Tour" B-17 and B-24 bomber planes into Salem's McNary Field on Wednesday, Eldon Bevens will be there.
"So many people now have an interest in this, and I sure enjoy talking to them about it," Bevens said.
Bevens was the ball turret gunner on a Boeing B-17 during World War II. He served two years, two months and 22 days -- the last part of which he spent recovering in South Dakota after he was shot during his sixth and final mission over Europe.
"It wasn't so bad. When I was done recovering I had a desk job and then one day I met the cutest little blonde in the world, walking across the floor of a USO dance," Bevens said.
"And that's the beautiful lady sitting right in there," he said gesturing to his wife, Lois, in the next room.
They married soon after the war ended and moved back to Bevens' hometown -- Dallas, Oregon.
"I've lived my whole life in a five-block radius of the house I was born in," he said.
"And now both my girls live right next to me."
When he returned from South Dakota after the war, Bevens, like his father before him, worked in the Dallas Tannery. Eventually, by purchasing one stock at a time, he bought out the owner, Mr. Muir, and became the sole proprietor. His youngest daughter and her husband now run the historic business.
Bevens said that his life has been exactly what he could have wished. He got back from the war relatively unscathed. He married a wonderful woman and raised two beuatiful girls in the town he grew up in. And he got to travel.
"I've seen every state in this country," he said.
He return to Europe as a dignitary to see the little town in Holland that he and his fellow crew mates helped by dropping food supplies as the war in Europe was ending.
"The Germans had retreated and taken everything with them. So we loaded up the planes with food instead of bombs and dropped survival packets on the people of Holland," Bevens said with pride. "That is the best memory I have from that time."
When he returned in the 1990s with his fellow bomber crewmen, the older generation of townspeaople still remembered. They hadn't forgotten the day the big bombers dropped food, and they thank Bevens and his friends for their lives.
"They'll tell you, people would have died that winter. There was no food. Even today people (in that town) remember that year," he said.
Now retired, Bevens volunteers at the Evergreen Flight Museum in McMinville. He said he loves how excited kids get when he tells them about flying in the B-17.
"They are so interested, and they love looking in the plane and crawling around," he said.
The B-17 was known during the war as the "Flying Fortress" because of its 13 machine guns. A crew consisted of a pilot, co-pilot, engineer, radioman, navigator, bombardier and four full-time gunners.
Of more than 12,700 built, only eight B-17s are still flying in the United States. This is the 16th year of the Collings Foundation living history tour. Salem is on of 130 cities nationwide to host the tour, which also includes the one and only B-24 still flying.
While the planes are in Salem, intrepid visitors can pay $425 for a ride, or simply enjoy they view from the ground.
"I probably won't go up in one, it's a bit expensive," Bevens said with a smile.
"Besides, I used to get to ride in them for free. The only problem was, people were shooting at me."
--
Bevens and other veterans will be on hand to answer questions and share stories when the "birds" fly in at 3 p.m on Wednesday, June 14 at McNary Field in Salem.
The bombers will be on display for three days for up-close viewing and inside tours. Admission is an $8 donation for adults and a $4 donation for kids under 12. All funds go to supporting the maintenance of the planes.
For more information:www.collingsfoundation.org
More like this story