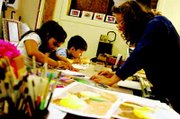 MONMOUTH -- Housed in a small, unassuming storefront at the corner of Main and Ecols streets, Nancy Kurz's Spilled Ink Studio is easy to miss.
The creativity inside isn't. A short walk from its front door and through a narrow hallway is a makeshift gallery adorned with colorful self-portraits, whimsical clay sculptures and other works by Kurz's students.
Most of those students are children like Emeli and Jacobo Flores. The young Independence siblings are learning how to cut mattes for framing and are running through a series of concepts from artistic license to pointillism.
"That's where if you want to make something, instead of sketching, you use dots," said 10-year-old Emeli as she added shading to a realistic depiction of a bouquet.
Emeli said she draws almost every day after school, "mostly stuff that I see in books or imagine." Her mother enrolled her and Jacobo, 8, in the sessions to improve their drawing skills.
Under Kurz's guidance they have dabbled in sculpture, watercolors and other mediums.
"I love the spontaneity of kids," Kurz, 53, said. "They aren't afraid of the paper or canvas."
Kurz has taught art to Independence and Monmouth community members -- young, old and in every demographic -- for 15 years.
As a member of the Salem Art Association's "Arts in Education" program, she also takes her instruction on the road in Polk, Marion and Yamhill counties. While she enjoys helping people refine their talents, Kurz said her goal is more about encouraging people to tap their inner artist.
"You don't have to go to art school to be creative," she said. "I like helping people find their creative center."
Kurz grew up in the Willamette Valley and moved to Los Angeles during the late 1970s to earn a fine arts degree. She moved back to Oregon and settled in Polk County.
She wanted to teach art but put those aspirations on hold while raising her three children.
Motherhood, however, did more to benefit her art than hinder it.
"I remember my son coming in the house with a frozen mud puddle," she said. "He said he wanted to paint on it.
"Being a mother teaches you so much about yourself. Instead of saying there is no time for art, I was gleaning it from my experiences."
As her kids grew older, Kurz rented a space in downtown Independence, earning money by doing private art lessons and working as a barrista at a coffee shop during the early 1990s.
She worked at Bush Barn in Salem and later taught at the old Luckiamate Elementary School before opening her studio in Monmouth five years ago.
Kurz's students range from young children to senior citizens. Parents sometimes enroll along with their kids.
"I want to show people that they can do art, too," Kurz said. "You don't have to go to a swanky art gallery to show your work.
"Art isn't about what you put in a frame. It's about how you live your life."
Spilled Ink Studio at 283 S. Main St. will put student works on display for an art show that runs June 24-July 8. The event, which kicks off with a performance by local musician Jim Plummer at 6:30 p.m. on Saturday, is free to the public.
The artists, mainly children, will be on hand to field questions about their works. For more information: Nancy Kurz at 503-508-6634 or spilledink1@hotmail.com.