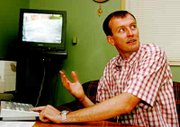 DALLAS -- Last week a group of La Creole eighth-graders sneaked onto the roof of Dallas High School, pried lead roofing caps off the ends of pipe and tossed them over the edge.
"It must have been great fun to remove them and drop them to the ground, because they just flatten out when they hit," Dallas High School Principal Keith Ussery said.
The roofing caps are designed to keep water from leaking into the school's walls and ceilings. It will cost about $500 to replace them. The boys also got onto the La Creole roof and repeated their game.
Unbeknownst to them, the Dallas School District had just finished installing a $38,000 digital camera system in the high school's many corridors.
"We had it installed the last week of school. The company suggested we do it while the students where still around so we could answer questions and address concerns," Ussery said.
It was also a form of advertisement: "Don't mess around with the school -- we can see you."
So far, the system is paying off. Not only did Ussery and the staff of La Creole help the Dallas Police Department positively identify the roof vandals, but the week the system was being installed Ussery was able to recover a stolen music downloading device.
"We had a young woman come in and tell us that her MP3 player had been stolen from her locker. She was able to give us an approximate time she thought it disappeared. We were able to go back and look at the footage from that time period and found a group of guys rifling through her purse," Ussery said.
Even though they didn't have the MP3 player being stolen on tape, because they had at least part of the incident on record the boys admitted to the theft.
Some people question the idea of watching every move kids make and find it Orwellian to have eyes everywhere. But Ussery said that not only is this sort of thing common place these days, but that kids are worth the added insurance.
"A perfect example, during the last month of school we had a lockdown because a mother had reported she had seen someone with a gun across the street from the school," Ussery said.
"We had to lock down all the classes and it took us about 45 to 50 minutes to go room to room with a police officer and make sure no one had a gun."
They never found a gun that day, and the lockdown was lifted, but Ussery feels the school's action may have saved the students a great deal of undue stress.
If we had had the cameras up and running, we may still have had to lock down, but we could have gone back and looked at the feed from all the doors to see if anyone entered during the time frame of the report. We could have done in five minutes what took close to 50 minutes," he said.
He also said that the camera system's pricetag is worth it. Ussery called it an investment, pointing out that an incident of serious vandalism or anything that landed the school district in court would burn through $38,000 and then some.
"It's a preventive measure," Ussery said.