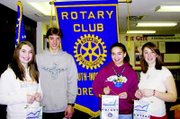 MONMOUTH-INDEPENDENCE -- Five sophomore students from Central High School will head overseas later this year under the sponsorship of the Monmouth-Independence Rotary Club and the Rotary International's Youth Exchange Program.
They are likely the largest group from one high school in Oregon to have such an opportunity under the program. "Normally our club is able to sponsor one visiting (inbound) student and one who travels (outbound)" each year, according to Barbara Welander, Youth Exchange coordinator for the local club.
"A number of unusual and unexpected developments occurred that are enabling our small club to be able to coordinate the sending of such a large number this year," she said.
The four students pictured above have been informed of their country assignments for their junior school year. Emma will study in Brazil, Kiaya and Brittany in Peru, and Kody in Japan.
Additionally, and for the first time, the Monmouth-Independence club will participate in the Rotary's "Short Term Visit" program. Amy Silbernagel has been selected to visit a foreign country for four weeks this summer, and then her family will host a youth in Monmouth for a month. The student that comes to Polk County will be from the same family that hosts Amy earlier.
"As a club, we are excited along with the students for these opportunities for travel and study," said Welander, who has served as chair of the local youth exchange committee for six years. Her youngest son, Matt, was an exchange student to Argentina.
Currently, Scott Summers, sponsored by the local club, is enjoying his junior year abroad by studying in Thailand. Central's visiting student this year is North Phonnamthiang from Thailand. North, especially strong in mathematics, has also been active in athletics by participating in soccer, wrestling and now tennis.
Local hosts are needed for the coming year. They will open doors to cultural education for themselves and the students they host. Interested families can call Welander at Ash Creek Intermediate School, 503-606-9016 for more information.