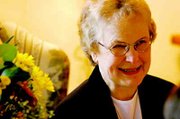 MONMOUTH -- Her friends and neighbors laud Goldie Burton for the gardening skills that have created a pristine collection of vegetables, fruits and irises spread across the 12-acre homesite she shares with husband Gary.
They praise her skills in the kitchen. Burton has taken home dozens of ribbons during state and county fair competitions, particularly for her baking, "always from scratch."
In fact, Burton possesses innumerable qualities that could be used to measure her success as a homemaker and mother, said Vicki Watkins, a neighbor and Burton's friend for more than three decades.
"She's sort of my measuring stick," she said. "When I have a dirty house, I say to myself, 'What would Goldie think?'"
But Burton, 63, says what matters most is her children, all 10 of them, and the adults they've become.
"My kids are my biggest accomplishment in life," Burton says, pointing to the photos of her children and 18 grandchildren adorning her living room walls.
While Burton may be modest regarding her achievements, her peers in the community are not.
Members of the state chapter of American Mother, Inc. (AMI) recently voted Burton as Oregon's Mother of the Year.
The non-profit, interfaith organization promotes education and cultural programs in hopes of preserving what it sees as the foundation of families in America.
"It's an honor for me to be selected to represent mothers in Oregon," said Burton, who will head to North Dakota in April for the group's annual convention. There, she'll contend with dozens of other nominees for national Mother of the Year.
As motherhood goes, her faith -- Burton is a member of the Church of Jesus Christ of Latter-Day Saints -- and her own mother have been the biggest influences in her life, says Burton.
She spent her childhood in rural southwestern Idaho. "I remember mom getting up at sunrise, seeing her out in the garden," Burton said. "We'd all sit on the porch with her, snapping beans, shelling peas and helping her can" the vegetables she grew.
"She taught us to to be good spiritual people, to try and do our best," she said.
Goldie Burton passed on those lessons to her own six sons and four daughters, who range in age from 43 to 22.
All of them were raised in Monmouth, attended schools in Central School District, and were active in sports and honors classes.
And it has paid off. Nine of her children have completed college (the 10th -- her youngest son -- is a sophomore at Brigham Young University). Some of them are working on or have earned master's degrees. Four of them own their own businesses.
Most of them have started families of their own.
Of course, Burton didn't have to handle the challenge of raising 10 kids alone. She is quick to credit Gary Burton, a retired accountant.
"It was important for us to educate the kids, to give them the opportunity to go on and advance themselves," she said. "His hard work allowed me to be a stay-at-home mom."
Burton's guidance extends beyond her own family.
She has been involved in a plethora of activities in Polk County, teaching sewing and cooking as a 4-H leader -- for 27 years -- or serving as a den mother for the Boy Scouts.
She is a member of the Polk Citizens Emergency Response Team (CERT) and helped organize a Monmouth team in 2003.
Last year when a man on the Marion Street Bridge in Salem threatened suicide and tied up traffic for miles, Burton was out among the volunteers "directing traffic to Dallas," Gary Burton said.
She is also a church leader and part of a committee that oversees religious education for youngsters in congregations from Marion, Polk and Lincoln counties.
Marie Hyde, a former Mother of the Year from West Salem and the current AMI president, said Burton embodies the value of her organization.
"She's an excellent teacher," Hyde said. " And the timing was right to nominate her ... she's at a point in her life where she can spend time helping our cause of strengthening the moral and spiritual values of the home."