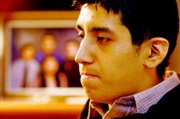 INDEPENDENCE -- Tino Banuelos had to wait until he was out of his afternoon meeting last Thursday before he could check his voice mail. It was a cryptic message from his younger brother, Peter Banuelos.
For almost a year, the Banuelos family had been holding its collective breath for a phone call from Oregon Health and Science University regarding a possible organ donor for Peter, who suffers from a progressive liver disorder called primary sclerosing cholangitis.
The Banueloses went through a dry run several weeks ago, when Peter was frantically summoned to the hospital as an alternate patient for somebody with priority on the transplant list for healthy livers.
"All Peter said was that he was supposed to show up at 8 a.m. the following day at OHSU," said Tino, an Independence police officer.
Tino said he had his doubts until his brother showed up at the family home later that evening.
"We had to grill him with questions," Tino said. "We called the transplant coordinator to make sure it was going to happen.
"Then, it was basically a sigh of relief," he said. "We couldn't believe the day was finally here."
Peter, 20, underwent eight-hour transplant surgery on April 21. Tino said the procedure was a success, and that Peter, currently resting at the Portland medical facility, would be able to return home later this week.
The recovery period is expected to take at least three months.
"His prognosis is good; he's actually exceeding expectations," Tino said, noting that Peter never needed the blood transfusion or post-surgery respirator doctors had predicted.
PSC is a progressive disease that narrows, scars and eventually blocks the bile ducts of the liver. This leads to cell damage and vitamin absorption problems. Individuals can develop osteoporosis and inflammation of the colon.
Peter suffers from a serious case which if left unchecked would lead to cirrhosis or liver cancer.
The news couldn't have come at a better time, said Erin Banuelos, Peter's sister-in-law.
The Banueloses had applied for entry into the live donor program at University of Colorado Hospital. The procedure involves removing a patient's diseased liver and replacing it with a portion of the organ from a healthy person.
Tino had volunteered as a donor. The family learned in March, however, that the surgery wasn't an option because of the advanced nature of Peter's condition.
"We actually felt like that was our best-case scenario because Tino was a match. It seemed perfect," Erin Banuelos said. "The transplant list is so uncertain, some people die waiting ... Tino took it really hard.
"We felt like it was going to be a long wait with OHSU," she continued. "So it was a shock when we found out they had a donor.
"Everybody is pretty exited."
Tino said the immediate danger to his brother is now over, though his body could still reject the new liver. Peter will also be on immunosuppressants for the rest of his life.
Peter's father's insurance is expected to cover most of the costs, Tino said. Peter's former classmates at Central High School created a fund at OSU Federal Credit Union, which has raised almost $10,000.
Had Peter gone through the live-donor program, his family members would have needed that and tens of thousands more for medical, travel and lodging expenses. Now, after paying for Peter's medications, they may actually have a surplus. Tino said they confer with the fund's creators on what to do with the balance.