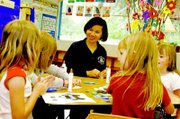 DALLAS -- Gessara Meelarp (Nui for short) sits at a low table with four Whitworth first graders. She is soft-spoken and warm, and the children respond to her instructions with enthusiasm as they work through a series of reading comprehension questions.
Nui, from Thailand, is a sixth-grade English teacher who has been assisting with Ruth Wagner's Whitworth first grade class this year.
Nui and the children are working together to answer questions about the story they just heard. Nui has the children take turns reading a question out loud, then they all answer it together. Nui patiently waits for each student to sound out the words and helps them along when necessary.
Nui has been in the United States since mid-August. She has stayed with two families (the Shetterlys and the Perrys), visited Disneyland and Seattle and experienced a completely different way of living.
She said she isn't ready to leave yet -- there are things she'd still like to try.
"I can't tell my mother that, though," she said. "Whenever I talk to her on the phone I say of course I'm homesick, mom, of course I can't wait to return.
"But really, I've lived my whole life in Thailand, and this is a once-in-my-life chance. I'll miss everyone I've met here so much."
Nui was born in Suphan Buri Province in central Thailand. She is the fourth of nine children, and when she was 12 years old she and an older brother moved to Bangkok to live with their grandfather.
She attended school in Bangkok until she graduated from college. She now lives with her mother in Nakhon Ratchasima City (also called Korat) and teaches English there. Korat is four hours from Bangkok and many miles from where Nui was born. Thailand is a huge country, covering 198,114 square miles.
The climate there is much warmer then Oregon's. It is more like the U.S. Gulf Coast, with its sub-tropic temperatures and year-round growing season. Thailand has a wealth of exotic fruits and grains.
Nui gathered photographs of the food, people and lifestyles of her country to present to the students at Whitworth. Earlier in the year, she visited each classroom and told the students about what it is like to live in her country.
"In Thailand we speak Thai, but we start to learn English in the first grade," Nui said.
"When we are in high school we have the chance to choose to study German, French, Spanish, Chinese or to continue English.
"Many Thai people feel a connection to the United States," she added, "because our king was raised in Boston, Mass., and he is a very good king. Most of the people are Buddhists, and that has given our country a level of unity, because we live by the same five rules."
Nui will return to Thailand in mid-June. She says she will miss Oregon and the people here a great deal. She has already invited both of her host families, and some of her other friends from Whitworth to visit her in Thailand.
"I told them I didn't want to come and go with nothing in between," Nui said.
Some have accepted. Ruth Wagner plans to go next year.
"My heart is sad because she is going back," Wagner said. "She is so wonderful. I will miss her."