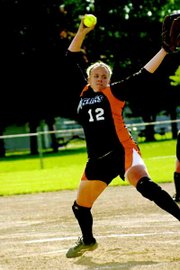 DALLAS -- Dallas pitcher Stephanie Albrecht was a first-team selection on the All-Pac-9 Conference softball team, selected by the league's coaches.
Albrecht, a senior, was named first team along with Anna Bertrand of McMinnville, Forest Grove's Emma Gronseth and Tualatin's Bethany Dempster.
"I was excited for her," Dallas coach Al Perkins said. "It's easy sometimes for a quality player to get overlooked when she's playing on a team that doesn't have a winning record. I was pleasantly surprised the other coaches recognized her contribution and skill level despite the fact we had a losing record."
Albrecht was the team's pitcher of record in every game this past season. Indeed, she's been the team's pitcher of record for virtually every game the past three seasons.
In the 2006 season, she pitched 132.3 innings in 21 games. Albrecht allowed 108 hits and 37 earned runs with 58 walks and 164 strikeouts. She finished with an earned run average of 1.96.
"I kept track of her statistics from last year to this year, and her numbers improved across the board," Perkins said. "There were a couple of games there were she just carried us with her pitching and hitting. The Tigard game we won was one example. She gave us excellent pitching and doubled to score the winning run. She was doing it all that day."